Posted on
Paladin SVG Inc officially opens its showroom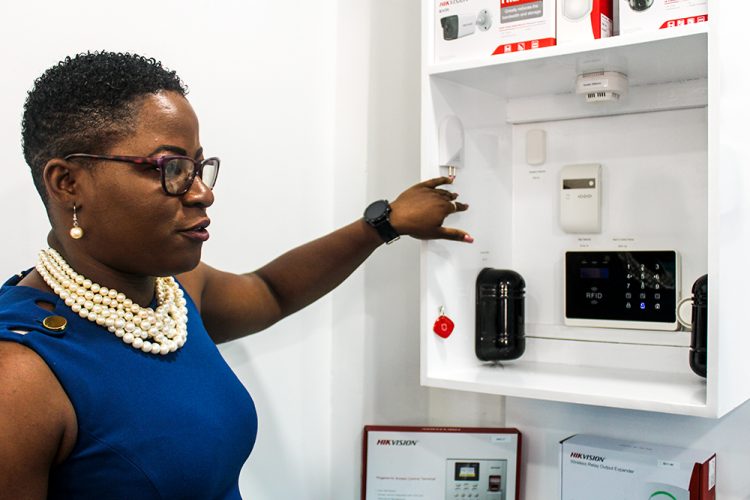 Paladin SVG Inc, in its fifth year of service, has reinforced its commitment to providing peace of mind to customers through the most recent launch of its showroom in capital, Kingstown.
The official opening took place on December 15 at the Sharpe Street location, where the company directors gave an overview of the security firm's product offerings, complete with demonstrations of the quality products.
"Customers come here, they could see, they could experience what is there and try as best as possible to break it down from an engineering perspective, and how it would look, how the installation in their homes would look and work to their requirements," said director, Theodore Browne at the showroom opening ceremony.
Browne said his company is in line with the latest innovations, and stock products from the brand, Vision – the largest video surveillance provider in the world.
The brand was among the first to develop a thermographic camera in response to the COVID-19 pandemic, which measures the temperature of everyone in a room.
One such camera is on display in the showroom.
But many other products are on display at the showroom, ranging from access control systems, alarm systems, IP camera and CCTV camera systems.
As a quality-oriented company, Browne said Paladin focuses more on IP cameras, which not only utilise better technology and have sharper, quality images but they are also Internet ready.
This means that persons have remote control in the palm of their hands with the ability to keep an eye on their property, arm, disarm, give someone access to their home and even have a conversation using their smart devices.
Amoy Munroe, another of the company's directors told those present that Paladin has remained true to its cause, five years into its existence, which is to build partnerships in a thrust to foster a safer world.
To this end, the security firm has created several partnerships over the years with various groups and organisations with the aim of raising awareness about the importance of safety.
"Now we have our products…we are happy to say that we are now able to contribute to the safety and security of our nation," Munroe said.