Posted on
Olivia DaSilva out to secure a sixth win in Christmas lighting up competition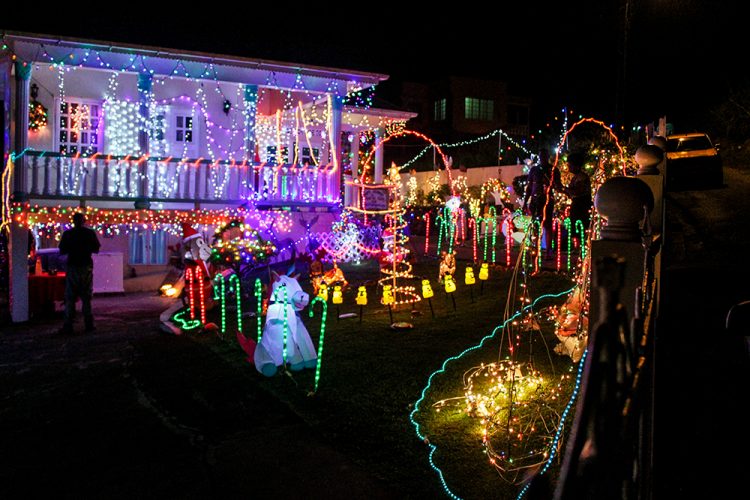 by Bria King
If the flickering lights and themed displays are anything to go by, Cane End homeowner, Olivia DaSilva put on all the bells and whistles this year, in her bid to secure a sixth consecutive win in the Nine Mornings Lighting up competition.
On Saturday night, the current five-time consecutive winner of the Best Lit Private House category officially turned her lights on, inviting persons in the community to view the execution of her 2020 theme, "Paying homage to Christ the King while serenading with carols".
This will be the 17th year that DaSilva is participating in the competition and she has won at least 10 times in previous years.
"I am happy. I am proud that I got into it. It's something I have a passion for. I love doing it. I get satisfaction out of it knowing that it is in keeping with Christ and his love and everything…," DaSilva said.
The Cane End resident's white house is the perfect blank canvas for the many colourful lights that were used to execute this year's theme and stood out among the other houses on the block.
The lights, with the help of blow-up features and recyclable materials including cardboard and plastic cups served to depict a variety of familiar carols around the property like 'Jingle Bells', 'We three kings', 'Hark! The Herald Angels sing' and 'Joy to the World'.
Over the years, DaSilva's creative concepts have been rooted in scripture and this year is no different.
She explained that the idea for this year's theme came in January, when she began taking down her lights from December 2019.
The basis of the 2020 theme comes from Matthew 2:1-2, which has to do with paying homage to Christ.
In addition to coming up with the concept for her displays, DaSilva also does most of the work, with the help of her grandson, Francis.
This year, the Cane End resident had a late start in putting up her displays and only tested her lights sometime after the General Elections in November.
She told SEARCHLIGHT that she spent over three weeks executing her concept.
And DaSilva intends to execute her concept with even more flair during judging when she plans to give the judges a sample of her vocal talents through the rendition of some of the carols displayed on her property.