Posted on
Marketing professional describes the Steel Expressions concert as "extremely impressive"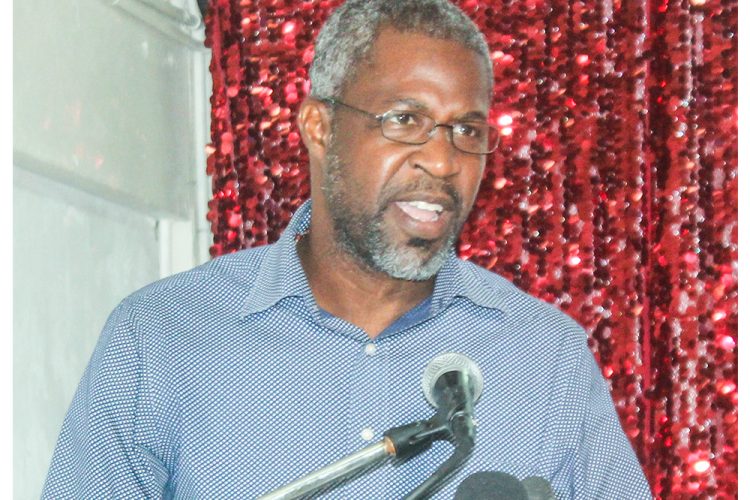 Rodney Small's Steel Expressions concert has been described as "extremely impressive" by a local marketing professional.
This is the view of Marketing Assistant at University of the West Indies (UWI) Open Campus St Vincent and the Grenadines Ronnie Daniel, which he expressed during the show's media launch at the Murray Heights Hotel on Thursday, December 10
Daniel told the gathering that he has known Small since around 2000, when Small and several other young entertainers became involved in the Methodist church's youth month program.
"He was very passionate and we were impressed," Daniel said of Small back then, while noting that Small has brought that passion to Steel Expressions, a show which is into its ninth year.
This year, the show is being held under the theme "Lifted" and is scheduled for Saturday December 26, Boxing Day. The production will be held at Victoria Park and doors will open from 8 p.m.
Daniel said that apart from Small's passion for what he does, he is very professional and concerned about community development.
"…And in 2017 when he was interviewed by SEARCHLIGHT…if you coupled what he said, he said he was a curious seven-year-old when his sister was doing evening classes and he heard the sound of pan and he gravitated to that sound and it sparked something…
"…And now the past is in the present and those formative experiences coupled with a curious mind and top it off with passion for people and community and self-development, and you can only get something like a Steel Expressions," Daniel commented.
"It is no surprise that the nurturing Rodney got from the church, his mom and friends, it is not surprising that we have a top class production for the last nine years," Daniel further noted.
The marketing assistant said that Steel Expressions is an outcome that was nurtured by ordinary people and brought to life by someone with a curious mind and a passion for what he does.
"It is that why we have Steel Expressions…fantastic productions. We have in this production…a top class production and I want to suggest and challenge Rodney to take it regionally," Daniel encouraged while noting that the event is a family affair and more than a piece of entertainment or regular concert we go to at Christmas.
"We have to support and own it and ensure that it lives on."
The 2020 cast is made up of among others, featured artiste pannist Rodney Small, five-year-old Jyasi "Lil JJ" Nash Jr., Aretha Shallow, Caywama Edwards-Cottle, Caydonna Edwards, Havlyn Gill, Brent Williams, Hance John, Ahjea Jackson, Kyron Westfield and a major surprise act. The RS Band will provide musical accompaniment.
COVID-19 protocols will be in place for the event and as a result, there will be multiple sanitization stations, distribution of masks for persons who wish to wear a mask and temperature checks on entry.
Free shuttle buses will also transport patrons in possession of tickets from as far north as Biabou on the Windward side and Barrouallie on the leeward side to the show.
There is also a major step up in security and parking areas.
This year, a donation will be made from proceeds to the World Pediatric Project (WPP) among other charities.
Admission to the event for adults is $50, children – $20 while a VIP ticket is $150. Ticket outlets include Four Shells and Coreas City Store.