Posted on
Locals awarded for their writing and creativity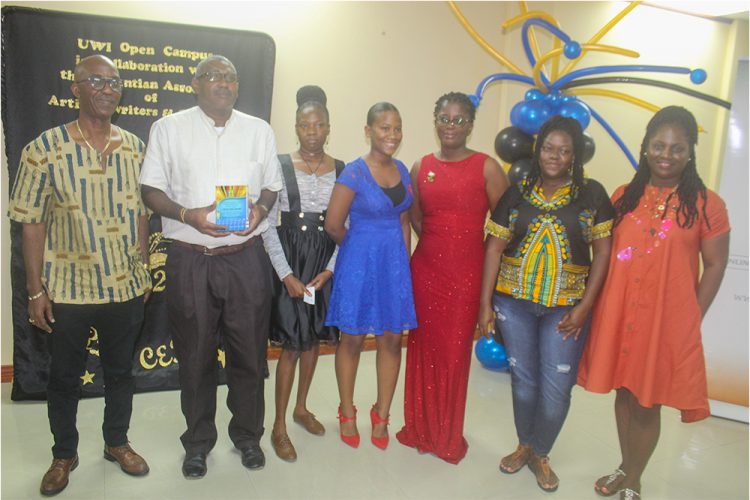 Culture and literature here received a boost this week when several locals, one posthumously, were awarded for their writing and creativity.
The boost came at the second annual University of the West Indies Open Campus (UWIOC) St Vincent and the Grenadines and the Vincentian Association of Artists, Writers and Producers (VAAWAP) Literary Awards Ceremony.
The awards ceremony was held on Monday at the St Vincent and the Grenadines Teachers Credit Union building in Paul's Avenue, Kingstown and organized by the UWI Event Management Class of 2020.
To be eligible for an award, writers had to submit for judging, poetry and fiction pieces to a panel of judges.
The first prize in the national literary award – poetry, went to Afreeca Daniel with her piece 'Green and Brown from my Childhood'. She was awarded the Ellsworth Shake Keane Poetry Prize.
Second place in the poetry competition went to Oslyan Ollivierre with 'A place I feel connected to' while third went to Gaylene David who submitted 'What more can a rose long for'.
Honorable mention was given to Marva Moore with her piece, 'Ground breaking'.
First place in the national literary award – fiction category, went to Kathy Badenock who wrote a story called 'Twilight in the Tropics'. She was rewarded the Dr H Nigel Thomas UWIOC SVG Fiction Prize. Badenock was not present to receive her prize.
Second place in the fiction category went to Denise Westfield with 'On her way home' while third was Tamara Toney with 'The silence she inherited'.
Lifetime achievement awards were given to deceased calypsonian Alexis "Lexie" Joseph and the vintage calypso program dubbed 'Kalypso Kollege' which is hosted by Stephen Huggins.
Commenting, Head of UWIOC Deborah Dalrymple said the awards are usually part of their annual literacy fair but that fair was not held this year because of COVID-19 and space restrictions.
She said finalists of the poetry and fiction competitions were awarded as part of a joint venture between UWIOC and Dr Nigel Thomas.
Thomas (professor emeritus) is a Vincentian who resides in Canada and according to Dalrymple, remains committed to the development of literature in SVG.
Dalrymple noted also that the VAAWAP is determined that the contribution of artists to our society's development not go unnoticed and once again recognized lifetime achievements of Vincentians.
The event was attended by among others, Cecil "Blazer" Williams and Rene Baptiste, both lawyers and cultural enthusiasts. Baptiste is the president of VAAWAP.
Both Williams and Baptiste noted the importance of events of this type.