Posted on
Rodney Small plans to lift bar higher with Boxing Day Steel Expressions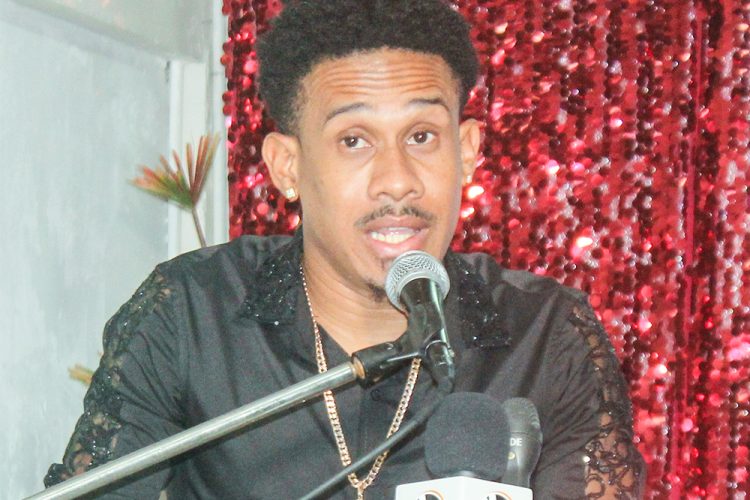 Rodney Small's grandmother, Annie King, said something to him on her dying bed, "Love, Peace and Happiness, Rodney".
And out of that sad moment, came something profound.
That is why this year, Rodney Small's Steel Expressions concert carries the theme, "Lifted" which will be showcased under the sub-themes – Proverbs 27:19 – Reflection; 1 Corinthians 16:1- Love; Psalm 144:15- Happiness; and Deuteronomy 31:6 – Lifted.
So with this in mind, innovation, entertainment and upliftment of local talent is what is once again going to be on show.
This year, the event is scheduled for Saturday December 26, Boxing Day, and according to Small, "in our ninth year of production we pledge, once more, to lift the bar even higher to ensure patrons of Steel Expressions – Lifted enjoy the highest quality of entertainment we are known to offer."
The media launch for the event, which is organized under the "RS Productions" banner, was held at the Murray Heights Hotel on Thursday December 10.
Speaking during the launch, Small stressed that "Lifted" aims to provide patrons with musical upliftment.
"As we close 2020, the producer plans to use many elements of our creative industry to lift the spirits of our patrons. The 3 1⁄2 hour family friendly event is expected to be of another high standard," Small told persons at the launch.
The 2020 cast is made up of among others, featured artiste pannist Rodney Small, five-year-old Jyasi "Lil JJ" Nash Jr., Aretha Shallow, Caywama Edwards-Cottle, Caydonna Edwards, Havlyn Gill, Brent Williams, Hance John, Ahjea Jackson, Kyron Westfield and a major surprise act. The RS Band will provide musical accompaniment.
"Over the years there has always been much deliberation on the composition of the Steel Expressions cast to provide patrons with the best clean and family friendly entertainment experience. This year is no different," Small said.
This year, the venue has been changed to the Victoria Park and doors will open from 8 pm.
Small explained that the venue will be transformed and used a digital display to show the design put together by architect James Campbell.
Small said he reached out to James and the architect was able to make his idea a reality.
The venue will have two different entrances and persons will enter through an airplane which will reflect the theme "Lifted".
"So when you coming through there, you are entering Steel Expressions – Flight 2020," said Small while adding that the new venue will still give the feel of the space in front the Mike Findlay pavilion at the former venue at the Arnos Vale Playing field.
There will also be a VIP area, but Small says the entire venue, "is VIP".
The stage will have different tiers with each musician performing from a different level.
"Persons who I showed it (the design) to, to get some feedback are asking how we going to pull it off, but we have some capable Vincentians to do the work," Small said.
"Whenever humans come together for any reason, music is there…music was meant to empower us.
"One of the really fascinating things about music is that technically, in a very literal way, it doesn't exist. A painting, a sculpture or a photograph can physically exist, while music is just air hitting the eardrum in a slightly different way. Music provides us with a strange self-generated celebration of the human condition in the face of a universe that is ancient and vast beyond our understanding," Small commented.
"When the COVID-19 pandemic started and I saw what was happening in the world it reminded me that as a creative person or an entertainer we all have a moral and social responsibility, so I started thinking right away on how I can contribute to what was happening by bringing courage and inspiration to my people.
"I decided that I am going to make Steel Expressions that source of comfort, that event where we all can gather and be lifted in fellowship, unity and love," Small said.
He added that on May 24, he decided to reveal the name and concept for Steel Expressions 2020 and he then realized that persons were waiting for something of this nature.
"About a month later, I lost my grandmother, may her soul rest in peace, but I remember being at her bed side when she left me with three words that really confirmed the theme for Steel Expressions – "Love, Peace and Happiness, Rodney", revealed while trying to hold back tears.
He added, "St Vincent and the Grenadines I am coming to you on December 26th in my purest element and being very vulnerable. If you ask me what my feelings are and what will they be at show time I would not be able to answer those questions because I am allowing my emotions to guide me," Small confided to the small gathering.
He said that persons must come to the event with an open mind and heart, "because it is going to be thought provoking, powerful…"
COVID-19 protocols will be in place for the event, therefore, there will be multiple sanitization stations, distribution of masks for persons who wish to wear them and temperature checks on entry.
There is also a major step up in security and parking areas.
The Steel Expressions committee is made up of Jean Johnney – Findlay, Lyndon "Pablo" Lewis Akisha Henry, Dennika Peters, Cenica Patterson and Esworth "Ezzie" Roberts, while this year, a donation will be made to the World Pediatric Project (WPP).
Adults attending will be required to pay $50, children $20, while the VIP is $150. Ticket outlets include Four Shells and Coreas City Store.
The media launch also heard remarks from Prime Minister Dr Ralph Gonsalves; former Chief Executive Officer (CEO) of the Government Employees Cooperative Credit Union (GECCU) Lennox Bowman; and Marketing Assistant at University of the West Indies (UWI) Open Campus Ronnie Daniel. Master of Ceremonies was Chairman of the Carnival Development Corporation (CDC) Ricardo "Ricky" Adams.