Posted on
All Logos exhibitions, book sales to be done on shore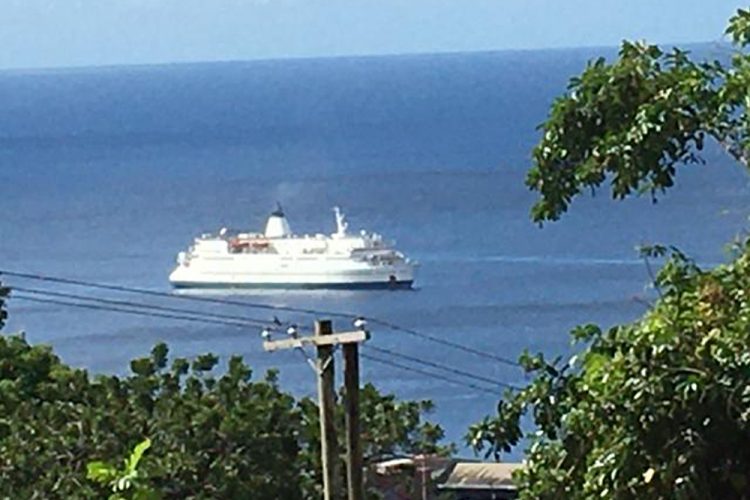 No locals will be allowed to board the MV Logos Hope when it begins its exhibition and book sale services here in St Vincent and the Grenadines soon.
This is according to protocols prepared by the Health Services Subcommittee of the National Emergency Committee/COVID-19 Task Force for the conduct of the vessel's visit to SVG.
Instead, all exhibitions and book sales will be conducted on shore in locations which allow for adequate ventilation and spacing and only after the crew has completed the required quarantine period.
The MV Logos Hope arrived in St Vincent and the Grenadines on December 11, 2020.
The world's largest floating book fair last visited SVG a year ago on December 14 and stayed for two weeks. This time around, the ship's schedule indicates that the vessel will be in this country up to February 1, 2021.
As outlined in the protocols, the arriving crew was expected to complete the pre-arrival form, which was reviewed virtually by Port Health Officers/Coronavirus Task Force.
The vessel travelled to SVG from the Bahamas.
Crew members were required to adhere to pre-arrival protocols which included, but were not limited to, wearing face masks while outside of cabins, maintaining physical distancing of 6 ft at all times and daily temperature checks.
On arrival at SVG, Logos Hope crew members were placed on mandatory quarantine on board the vessel and expected to remain there until cleared by Port Health authorities.
The crew will be tested for COVID -19 and rapid antibody tests on arrival in SVG. The nasal swabs and finger sticks are to be administered by the vessel's medical staff.
"If any crew member is found to be positive for COVID-19 RT-PCR, the crew member and their close contacts (cabin partners) must transfer to an approved hotel at their expense for isolation and quarantine until cleared by two negative RT-PCR tests," the protocol said.
Crew members are also to be re-tested between day four and day five of quarantine, as well as between day eight and day nine of quarantine.