Posted on
PAHO hands over US$264,472 worth of equipment to SVG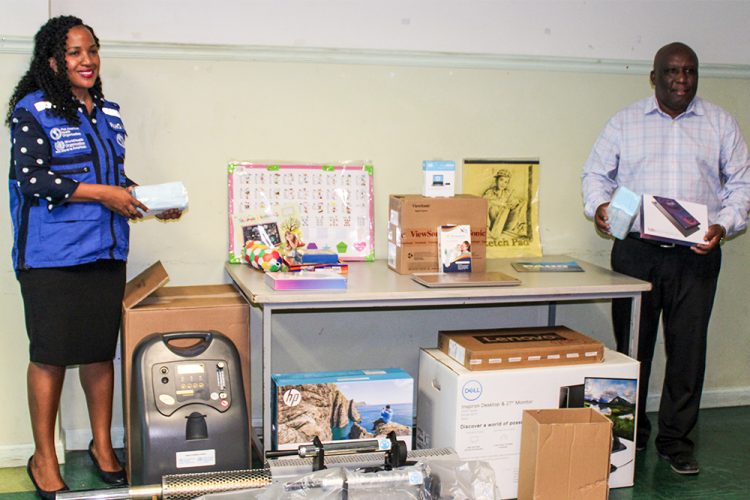 The Pan American Health Organization (PAHO) is continuing to provide "tremendous" support to St Vincent and the Grenadines (SVG), the most recent being a symbolic handover of US$264,472 worth of equipment to combat Covid-19 and Dengue.
"Our support is reflective of our mandate to provide assistance to member countries, including St Vincent and the Grenadines, to enable them to strengthen health systems and respond to emergencies and disasters," the PAHO Country Programme Specialist for SVG, Nicole Slack-Liburd summarized during brief remarks at the handover ceremony this Wednesday, December 10, at the Ministry of Health (MOH) conference room.
Dr Rufus Ewing, Advisor Health Systems and Services, PAHO ECC Office, delivered detailed remarks on the occasion.
He indicated that PAHO "remains steadfast in its commitment to provide technical cooperation support to St Vincent and the Grenadines to strengthen its health system to ensure that the people of St Vincent and the Grenadines have access to quality healthcare as a right, and enjoy a good quality of life."
The PAHO advisor informed that since the start of the Pandemic, "PAHO has committed funding in the amount of United States $489,886 to provide St Vincent and the Grenadines equipment supplies and technical support to strengthen the coordination of the COVID-19 response."
Also, to enhance risk communication and messaging about Covid-19, enhanced surveillance in the communities and points of entry, increased laboratory testing, ensure protection of healthcare and frontline workers, through infection prevention equipment and protocols, and the provision of equipment supplies for the clinical management of patients with Covid-19.
Finally, to ensure the maintenance of essential health services in capacity to respond to other health challenges such as the Dengue outbreak.
"Today we gather to officially handover a display sample of equipment and supplies with a total value of $264,472 to support the countries response to Covid-19 and the Dengue outbreak, to facilitate safe reopening of schools, and maintaining essential health services," Ewing advised.
The equipment was procured over the past six months, and some of it is already in use. It ranges from thermometers, face shields, and defibrillators, to AC units, and IT equipment for the various health units, PCR kits, and dialysis machines.
Further, additional equipment and supplies are to be delivered before the end of the year.
Ewing encouraged that while the countries work on rolling out safe and effective vaccines, that they continue the public health actions to suppress transmission, also noting that the pandemic still has a long way to go.
"I encourage St Vincent and the Grenadines the maximize the use of these equipment supplies and the technical support that PAHO will provide to you over the next few years, with respect to the Covid-19 pandemic," he ended.
New Minister of Health, St Clair 'Jimmy' Prince, thanked PAHO for their donation.
He noted that in SVG we have been dealing with the pandemic in a "fairly reasonable way." "But we couldn't have done it without the help of our development partners and the astute leadership of our health people and our Government," he said.
"We have had to respond quickly and aggressively to these two scourges of Covid-19 and Dengue and you must have heard in the press that we have ramped up our response with respect to Dengue," he continued.
Machines and trucks for fogging have been donated by PAHO and are already in use.
"The kind of assistance that we've been getting from PAHO, has been tremendous and these items that we have here on display cost in the region of over quarter million dollars US and they have been playing a large part in our response particularly to COVID-19," Prince stated.