Posted on
Largo Height man wins $270,000 Super 6 Jackpot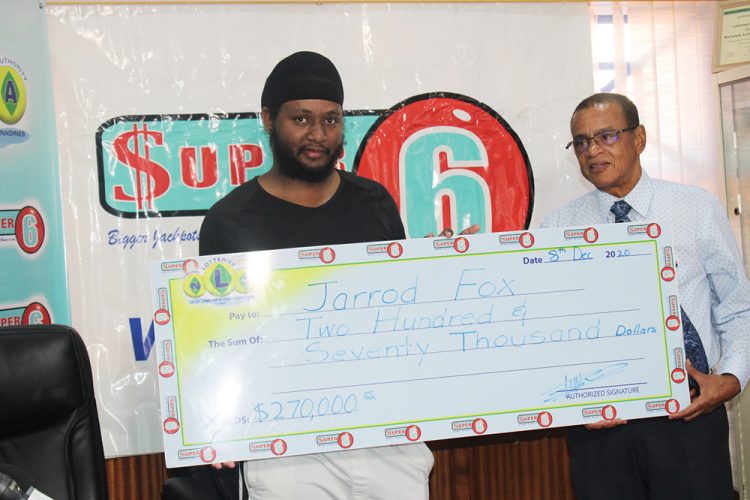 Had it not been for his mother, Jarrod Fox would have thrown away his winning Super 6 ticket worth $270,000.
The Largo Height man claimed his winnings on Tuesday during a short ceremony at the National Lotteries Authority (NLA) headquarters in Kingstown.
"I didn't find out until Sunday night when my mother hand me back the ticket because I told her to throw it away. She told me to double check it because she knew," Fox told the media this week.
His ticket, which was a 'quick pick' purchase, had the winning numbers; 1,4,7,9,12 and 23.
The 28-year-old said he had no immediate plans for his winnings and most of it will go into his credit union account.
He added however, that he will use some of it to "help me mother fix back up she place".
McGregor Sealey, the NLA's general manager quipped that the latest Super 6 winner may want to buy an expensive watch or present for his girlfriend.
But Fox replied; "No, sorry. I'm a simple guy…If I simple, she ha be simple too".
Sealey congratulated the young man on his win, noting that $270,000 is a lot of money to come into at 28 years old.
And the general manager encouraged Fox to spend it wisely.
"At this age, $270,000, try to build it. Try and see if you can extend on this $270,000. Take your time and spend it wisely," Sealey said.
Super 6 is a multi-island jackpot game placed amongst the four Windward islands of Dominica, St Lucia, St Vincent and Grenada.
It is drawn every Tuesday and Friday.
Anthony Dennie, NLA's product development officer said on Tuesday that some persons express the view that not many Vincentians are successful in the Super 6 game.
However, he said SVG has had its fair share of Super 6 winners, with Fox being the latest Vincentian to claim the jackpot.
"This is our 10th jackpot and we'd certainly like to congratulate Mr Jarrod Fox on being the latest jackpot winner from St Vincent and the Grenadines," Dennie said.
The product development officer disclosed that revenue from the Super 6 game was significantly impacted by the COVID-19 pandemic, specifically in St Lucia where there is community spread.
He noted however, that Vincentians continue to support the Super 6 game and all of the games being made available by the NLA.