Posted on
New lawyer dedicates her achievements to her late mother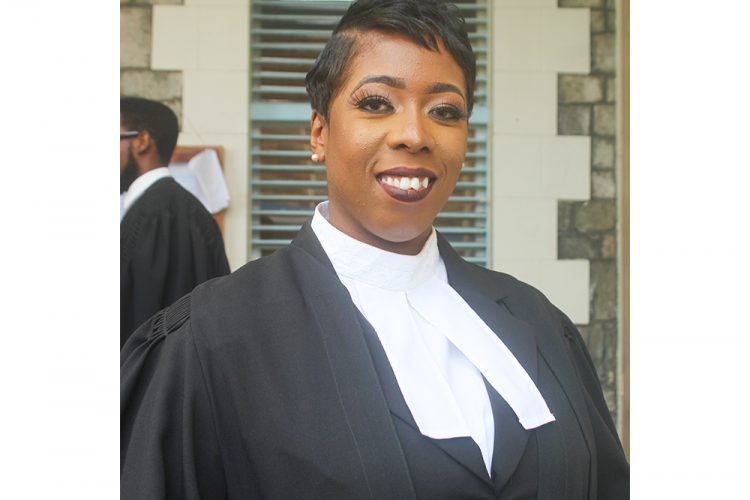 Although circumstances intervened, forcing her to put her education on pause for nine years, Nakita Charles has ultimately succeeded in being called to the Bar as an attorney-at-law, an achievement which she has dedicated to her late mother.
"My journey to arrive in this space was a long and uncertain battle which started 14 years ago," Charles told the High Court, where counsels Jomo Thomas and longtime friend, counsel Keisal Peters, vouched for her as a fit and proper person to be admitted to the Bar of St Vincent and the Grenadines.
In her maiden speech before the High Court last Friday, December 4, Charles revealed that after completing her Bachelor of Laws in 2009, she could not secure the funds to attend law school.
She sought employment, and found work as a teacher at the Emmanuel High School Mesopotamia, while saving. Her plan was to work for five years, and apply for study leave.
"I planned but God had other plans for me. The very year I became eligible for study leave and was organizing to apply for Law School, my mother was diagnosed with stage 4 cervical cancer," Charles recalled.
"At that juncture I completely forgot that Law School existed. I spent my time and funds along with other family members to care for her," she noted.
Her mother passed away in 2014, "but I did not regret. I was there with my mother and held her hand when she died. If I was absent during that time, that is what I would have regretted."
Four months after this tragedy, Charles received a blessing in the form of her son. While his entry into the world was another delay to her Law School goal, she emphasized that she says this without regret, explaining, "He brought joy to the lives of me and my siblings during an extremely difficult period."
She, as did all of the applicants before her, thanked God as her number one provider.
"Today, I dedicate my Legal Education Certificate and my entry to the legal fraternity to my mother, the late Sandra Primus of Rillan Hill," Charles announced.
She confessed that her only disappointment was that her mother was not there to see her moment, noting: "My mother rooted for me, she encouraged me and I know she wished every day that she was in a financial position to help me accomplish my goals."
Additionally, she said, "Without the part played by Mr Kwaanza Phillips of Campden Park in the care of our five-year-old son in my absence, I would not have made it though Law School."
Charles mentioned a host of others persons who helped her on her journey.
In the end, she turned her attention to her future career.
The attorney promised "As I embark on my career as an Attorney-at-law and having grown up in a disadvantaged community, I fully intend to assist the less fortunate with access to justice."
She vowed to uphold the profession, and maintain high ethical standards.
"To be given the opportunity to join this noble profession is a privilege and it is one I do not intend to trivialize," she concluded.