Posted on
Award winning law graduate called to the Bar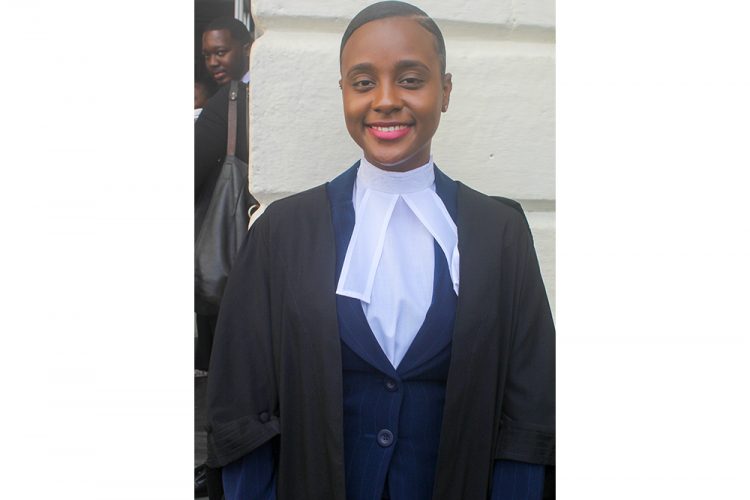 Overcoming academic pressures, and inner battles of self doubt, Chantè Melville Francis, who was last week accepted as one of the newest members of the legal body, has given her family much to be proud of.
Attorneys Duane Daniel and Jenell Gibson assured adamantly that young Francis is fully competent to be accepted as a Barrister and Solicitor practicing in the state of St Vincent and the Grenadines.
They noted that Francis, the winner of the Andrew Cummings QC prize for being the best performing Vincentian student at the Hugh Wooding Law School, is equipped with a refreshingly frank nature, humour, engaging spirits, a lust for learning and professional growth.
Following these words, Justice Brian Cottle granted Francis' application, and the new lawyer took her oath without hesitation.
As is the custom, the new attorney was given a chance to address the court, and the Justice.
"I have experienced much to arrive in the space I am blessed to occupy today: late study nights, strife, including pressure and inner battles with self-doubt and fear of failure. Through it all, God has been there providing and protecting me," Francis disclosed.
Her speech was almost entirely around her gratitude to the people who made her achievements possible, and after she mentioned God, her mother was next in line.
"Today is as much about me as it is about my mother, Ms. Marissa Melville," Francis said, as her mother looked on, seated alongside the family members of the other applicants in the section that usually accommodates the jury.
The young lawyer attributed her vision to reach for her dreams, as well as her grit to push through the challenges that are in her way, to her mother.
Her mother shared words of encouragement and her finances with her, Francis revealed, adding: "You have been so selfless and giving and I couldn't ask for a better mother."
She told her mother, who acted as both parents to her, that her achievement was for her. "I was battling with the pressure and fear of failing and disappointing her while trying to quiet the inner whispers of self-doubt. I so desperately wanted to make her proud. I did not care what anyone else thought or what my colleagues were doing," the young woman noted.
Francis commented that her grandparents, Douglas and Emily Melville, were two of her biggest cheerleaders, and her boyfriend, Woody Compton, was her sidekick, and there to provide support to her in many ways.
She named Chief Magistrate Rechanne Browne, someone she has known her entire life, as one of the major reasons she embarked on her University education in 2015.
The young woman noted that her family also includes the staff of Finishing and Furnishing.
Guidance was also given to her by the staff of the Kingstown Cooperative Credit Union, her friends, and counsels Carlos James, Duane Daniel, Jenell Gibson and Rochelle Forde.
After recognizing those who contributed to her successful journey, Francis assured, "But in all my glee, elation and spirit of gratitude, I have not lost sight of what I'm embarking on – a noble and honourable profession with uncompromising traditions and virtues, one in which hard work, commitment, diligence, integrity and humility go hand in hand."
She ended by saying that she understands the challenges involved in the profession, and that by taking the oath she has pledged that she is up "for the task and will undertake to deliver legal services to the standard of a reasonably competent Attorney-at-law, in and around the courts" of SVG.