Posted on
Poyer pickets Ministry of Agriculture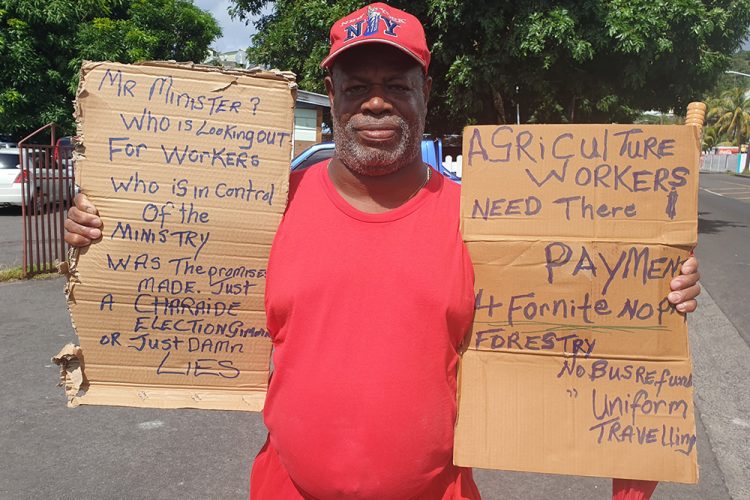 Trade unionist Joel Poyer has accused the Ministry of Agriculture of not having paid several of their daily paid workers for four fortnights.
Poyer picketed the Ministry of Agriculture in Richmond Hill on Monday and told SEARCHLIGHT that it is unfair that workers are not being paid, more so that now is the Christmas season.
"There are various departments in the Ministry where the daily paid workers haven't been paid and nobody is telling them what is happening.
"It is woeful down at the forestry department. They haven't received their uniforms, they haven't got travelling allowance, they haven't got bus refund and these workers are going beyond the call of the duty for the work of the nation," Poyer commented.
He said workers are subsidizing the cost of doing their jobs, "and nobody looking out for them."
Poyer said like anyone else who does an honest job, workers want and need their money.
"Right now is the Christmas season and they are expecting their holiday pay to enjoy their Christmas and they are not sure if their money will be coming because if there is no money available right now, how would they get it?" Poyer said.
He said that some workers, "are four fortnights in the hole" and some of them may even have a fortnight or two of vacation time and would have liked to take that vacation around this time of year.
"So if they have four fortnights in the hole and two for vacation, that is six," Poyer stated while describing the situation as "ridiculous".
"This ain't no political thing," he stressed while adding that he is now retired from the Ministry of Agriculture's forestry division where he was employed for 38 years.
Poyer said he is a qualified trade unionist as he holds a diploma in labour relations, negotiation and management from the George Meany Center for Labor Studies in the United States of America (USA).
"So I look out for workers and I'm here in the capacity as a trade unionist on behalf of workers on a whole in this country," Poyer stressed.
When contacted on Monday, Minister of Agriculture Saboto Caesar said permanent secretary Nerissa Gittens-McMillan is handling all matters of this nature.