Posted on
I am prepared for my role – Madame Speaker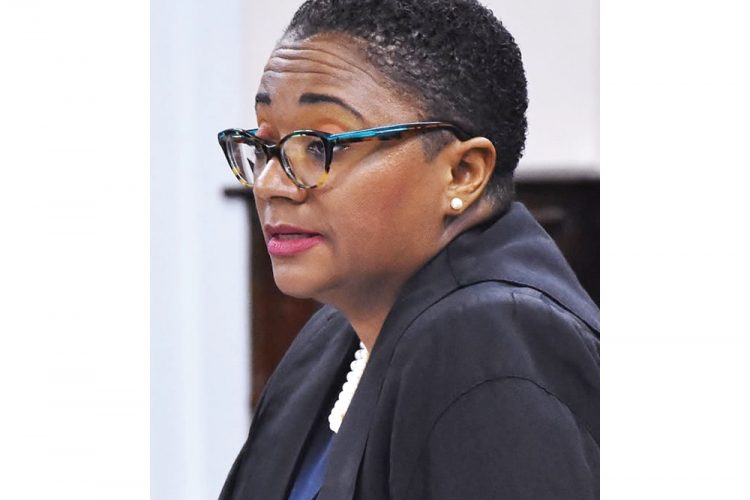 by Bria King
The first female Speaker of the House of Assembly in St Vincent and the Grenadines has all intentions of being impartial in her management of the House and parliamentary proceedings.
Lawyer Rochelle Forde was elected Speaker this week during the first session of the 11th Parliament on Monday. She is the first ever woman to hold the position in this country.
"I love the nation and people of Saint Vincent and the Grenadines beyond the expression of words and I believe that service to country is the responsibility of each citizen, and this I have always embraced," she said in an exclusive interview with SEARCHLIGHT on Thursday. "I am humbled and delighted to be the holder of such an esteemed position.
The fact that my election coincides with my being the first female Speaker of the House adds a smile to my heart."
Forde received 14 of 22 votes in the House of Assembly on Monday. The remaining 8 votes went to lawyer and former senator, Kay Bacchus-Baptiste who was nominated by Dr Godwin Friday, Leader of the Opposition.
The current Speaker already has experience in Parliament, having served before as a government senator and Deputy Speaker of the House from 2005 to 2010.
She has been a lawyer for the past 18 years, having been called to the Bar in 2002.
As a dedicated member of the Girl Guide Association, Forde believes that the organisation has helped her to learn and cultivate leadership skills – skills that she will be able to draw on in her new position.
When considering accepting her nomination for Speaker, Forde told SEARCHLIGHT she consulted with her immediate family members, especially her two daughters.
Her family's immediate expression of confidence and elation and her prayers to God for guidance and discernment were contributing factors to Forde's acceptance of Prime Minister Dr Ralph Gonsalves' nomination for her to become Speaker.
"Thereafter being satisfied, coupled with my love for country and, what appears to be an inability to turn a deaf ear to a call to service, I made the decision to accept the nomination," she said.
In her remarks in the House on Monday, the 44-year-old urged parliamentarians to not make the mistake of trying to "resurrect an old, misguided stereotypical myth which in its folly somehow equated a particular gender with weakness".
She told SEARCHLIGHT on Thursday that there were a few subtle comments in that regard when it was announced in November that she would be nominated for the position of Speaker.
However, Forde said there were more sentiments expressed towards anticipation of the approach that would be taken in the House under her leadership.
"I can't say I recall a personal experience, as my socialization has always been focused on not allowing anyone or any situation to stifle me. I have however witnessed persons being made to feel less than worthy simply because of gender. I am satisfied however, especially in our beloved SVG, that there is a steady shift away from that antiquated mode of thinking," she said.
As the new Speaker, Forde said she has several ideas for her time in the House, that need some time and research for refinement.
But during her tenure, she intends for work to be done by all parliamentarians as it relates to having a better understanding of the Standing Orders.
Already, Forde announced on Monday that she will hold a private session on December 17 for all parliamentarians to familiarize and re-familiarize themselves with the rules of the House.
"…I am hoping it will also give us an opportunity to review and decide if they are in need of reform. I am also keen to work on the revitalization of the local branch of Commonwealth Parliamentary Association – as these organisations lend themselves to greater cooperation among members. And of course, my main focus will be to have parliamentary proceedings properly conducted in a multidimensional respectful manner," she said.
Forde's ultimate goal is to see the continued evolution of debates in the House which are less adversarial "as the thrust of a significant contribution can sometimes be lost simply because extraneous factors are allowed to dominate".
The position of Speaker in the past has often been marred with accusations of bias towards one side or another.
Having served as a government senator in the past, it is likely that these accusations will also be cast on the newly elected Speaker.
But Forde noted that it is her role to be impartial in the management of the House and parliamentary affairs and that is exactly what she intends to do in the execution of her duties.
"I feel sufficiently equipped with the core values, which have been inculcated in me by my family and I will hold steadfast to them in this new office. I also believe that to automatically assume that a person will be biased, is to destroy the concept of individual thought. I have taken my oaths and will be guided accordingly, presiding at all times fairly and firmly," SVG's first female Speaker of the House said.