Posted on
Bramble committed to serving people of East Kingstown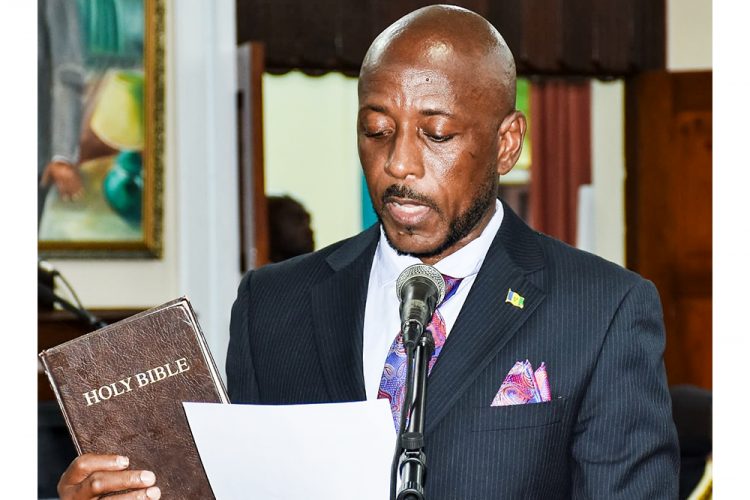 Fitz Bramble, on the occasion of his debut in Parliament has pledged to serve and represent the people of East Kingstown in "the way they would want to be represented".
The new parliamentarian successfully contested the East Kingstown seat as the New Democratic Party's (NDP's) candidate in the 2020 general elections against the Unity Labour Party's (ULP's) candidate and former senator, Luke Browne.
Bramble replaced former prime minister and former opposition leader, Arnhim Eustace as the parliamentary representative for East Kingstown on the Opposition side of the House.
Eustace, prior to his retirement, was the longest serving representative for that constituency.
"…I would not attempt to fill his shoes, but I would like the opportunity to go on record as saying that I admire and appreciate his exemplary level of representation in this House and as best as I can, I will be guided in many regards by the way he conducted himself in this Honourable House," Bramble said in Parliament on Monday.
In addition to committing himself to serving the people of his constituency, Bramble reaffirmed his dedication and commitment to serving the people of St Vincent and the Grenadines in the best way possible.
He also congratulated all members of the House of Assembly, including new members on both sides of the House.
"I'm quite sure that you, most of you know better than I do, that to serve your country, especially a country such as ours with so many challenges and so many unique and peculiar realities, it is not easy," the East Kingstown representative said.
"This is my first time serving in the Parliament so I myself look forward to the challenges and I look forward to working with everybody in this honourable house, to meet those challenges to make this country a better place."
Bramble also congratulated the new Speaker of the House, Rochelle Forde, who he said is one of his former Economics students.
He told Forde, SVG's first female Speaker that he was proud of her and that he anticipates and expects her to perform her duties with the highest level of professionalism and integrity and impartiality, all while striving for excellence.
Bramble also congratulated government senator, Ashelle Morgan, who was appointed Deputy Speaker of the House of Assembly.
The new parliamentarian also thanked his colleagues on the opposition side of the House, particularly Opposition Leader, Dr Godwin Friday whom he said inspires, motivates, guides and counsels him in so many ways.
He expressed his appreciation and said he is looking forward to working with his leader and colleagues in the House, in an effort to make a difference in this country.
"I also want to congratulate the newly elected members. Unfortunately, I'm the only one on this side of the House, but I specially congratulate the honourable member from Central Leeward and my good friend and former schoolmate, the Honourable member from West St George. I hope that as newly elected members, we can continue to uplift the level of representation in this Honourable House," Bramble said.