Posted on
It is difficult for the SVGCG to cover 11,000 nautical miles of sea – PM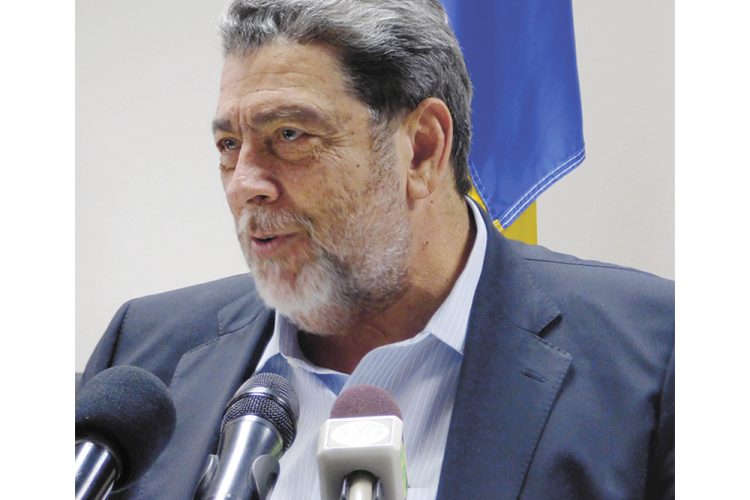 The various vessels owned by the St Vincent and the Grenadines Coast Guard Service (SVGCG) do regular patrols, but it is difficult to cover the approximately 11,000 nautical miles of sea that belong to the country.
This was made clear by Prime Minister Dr Ralph Gonsalves as he tried on Wednesday to reassure the nation that the waters of the country are being policed, not only to prevent the importation of COVID-19, but to fight piracy as well.
The statement came two weeks after Barrouallie fisher 38-year-old Canold Miller and Questelles resident Cliff Young, were robbed by 10 Spanish speaking men with AK-47 assault rifles.
The incident took place in the waters off Mustique on Thursday November 12 and has struck fear into members of the fishing community.
"They have been doing a lot of patrols…," PM Gonsalves told listeners of NBC Radio's Morning Cup program with Colville Harry on Wednesday.
He added, "I am not giving details of where they are patrolling, but they are on the northeast and northwest and south. Not only for the purpose of the boats concerning COVID, but other activities including trying to cover enough territory to dissuade any set of bandits coming out of South America, Venezuela, Colombia or anywhere else for that matter."
Gonsalves said he spoke with Commander Brenton Cain, head of the RSVGCG on Wednesday and raised the issue of increased patrols, but even before he mentioned it, the Coast Guard realized on their own that with the spike of COVID-19 cases in St Lucia, more patrols were needed.
"We have to be very careful with the boats which go between St Lucia and St Vincent and the Grenadines and the northeast and northwest, particularly as you go north of the Dry River and Fancy and around St Vincent and the Grenadines on the northwest side, Chateaubelair and Fitz Hughes and Richmond, that area…" Gonsalves, the minister of national security said.
He added that persons must bear in mind that we have about 11,000 nautical miles of seascape.
"So it is a wide and expansive area but in addition to that, we work through the Regional Security System," Gonsalves noted while stressing that there are air patrols by a C-26 aircraft and that provides information in helping SVG protect its borders, not only the land mass, but the exclusive economic zone and the extent of the seascape under our jurisdiction.
He said that the US$7 million, 140 ft craft, dubbed 'Captain Hugh Mulzac,' spends days at sea while during that time, other smaller vessels patrol the waters.
"They not coming back until Saturday so they are doing a four-day run now. Before, that couldn't be done," Gonsalves stressed while noting that there is also the vessel called the Balliceaux, a medivac.
"So what happens is that you will have the Mulzac go from south to northeast to northwest and then other vessels overlap and even when they (Mulzac) are going up, other vessels do periodic runs at different times of the day," the national security minister explained while noting that they also coordinate patrols with neighboring islands and with the RSS.
"I just want to give that assurance to the public, but I give the caveat that there is a lot of seascape, a lot of sea to cover…it's a huge area," the Prime Minister said.
He noted also that fisherfolk ought to be careful in relation to COVID-19 as some of them interact with fisherfolk from other places.