Posted on
FLOW's Christmas promotion reveals a pile of goodies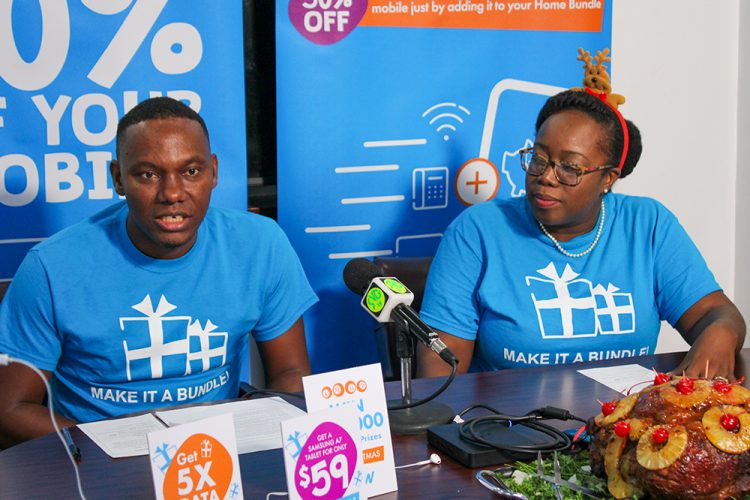 FLOW's 2020 Christmas promotion has revealed a pile of goodies in store this season, including 5x data, 3x credit, a "Ham Ah Day" draw, Dollar Data Sundays, Virtual BINGO Games with $20,000 worth of prizes, etc.
FLOW marked the start of their Christmas promotion on November 20, injecting the public with some Christmas cheer via a street parade around Kingstown, which was led by the Police Band, accompanied by dancers, and Santa Claus.
They also, via a press briefing at their headquarters, informed about the promotions that they will be offering existing and new customers, this year.
"We would take the Promotion throughout every single community in St Vincent and the Grenadines using our pop-up shops, and we would also offer customers the ability to use our online virtual stores to make their purchases," Country Manager Wayne Hull indicated, He also noted that the company has decided to donate to a yet unnamed Home this Christmas. It is their intention to donate to the Home, "several" tablets, complimentary broadband services, TV services and fixed line services.
Marketing and Communications Manager, Nikala Williams, disclosed that "this Christmas when our prepaid customers activate any three-day or seven-day plan, they would automatically get their data allotment in that plan multiplied by five."
For customers who sign up for their all-in or all-in plus bundle and add their mobile services to their home bundle, FLOW will also be reducing the price of the Samsung A7 tablet, usually sold at EC$800, to $59. This is open to existing and new customers.
This Samsung tablet is also being offered for free, for those who sign up to a bundle, and add an unlimited mobile plan to the bundle.
Williams explained that they have a new addition to their Christmas promotions.
"…In true Covid-19 spirit, we are looking for new ways to bring online to life. We are looking for new safe ways for our customers to interact with us and have fun this Christmas," she said.
Therefore, they have plans to introduce online BINGO.
If a customer tops up $15 or more, activates a three-day or larger plan, or signs up for a bundle; they qualify to enter a BINGO match.
When a customer qualifies, they will receive a bounce back message informing them that they have an opportunity to enter and win, and they are asked to click a link to register. After registering, when "game time" comes around, a BINGO card will arrive.
Multiple cards may stack up depending on the transactions.
"We have six games, and we have a trial game just before to warm everyone up. So don't be afraid, don't get timid, I know everybody's not used to online Bingo," Williams told listeners.
The preliminary game will be on December 4, while the "the big game" is on December 23.
"At that game day, you log on to the game that you want to play, your bingo cards come up on your screen," she added.
The prizes up for grabs are $7500 cash, Samsung Galaxy N20, latest iPhone, a Playstation5, and 2 Samsung Galaxy tablets.
Another chance for Christmas cheer this December comes through FLOW's "Ham Ah Day" draw. Persons are automatically entered when they zero their bill with FLOW. Every day starting on December 1, there will be a draw, and winners may choose between a turkey and a ham.
"What's Christmas in Vincy without a nice boil Ham? So that's going to be available to our customers who are paying their bills, zeroing their balance, coming in, taking up services," she encouraged.
The Country Manager disclosed that yet another offer will exist for prepaid customers.
"For every customer that tops up $10 or more, they will receive three times bonus credit, so meaning they will receive a bonus credit of $30, and that credit can be used to make calls on net, FLOW to FLOW customers or to FLOW fixed line," Hull said.
Additionally, they will immediately receive 3GB of data.
He also explained that for every Sunday in December, FLOW users will be given an opportunity to get one GB of data for $1.
"We call this the dollar data Sundays, and this would be eligible for all our mobile prepaid customers in December," Hull says.
Finally, Williams said she wanted to remind customers that when they sign on to a postpaid plans of $110, $150, and $250, and bundle it with fixed services at home; "we are slashing the plan price in half. So $110 becomes $55, $150 becomes $75, and $250 becomes $125."
"So this Christmas we didn't stop it, we are continuing people, and we want make sure persons, all our customers and persons who are thinking about joining the network know, it is still available for you," she informed.