Posted on
SVGS take place first in the Idea Category in NTRC's iCode784 competition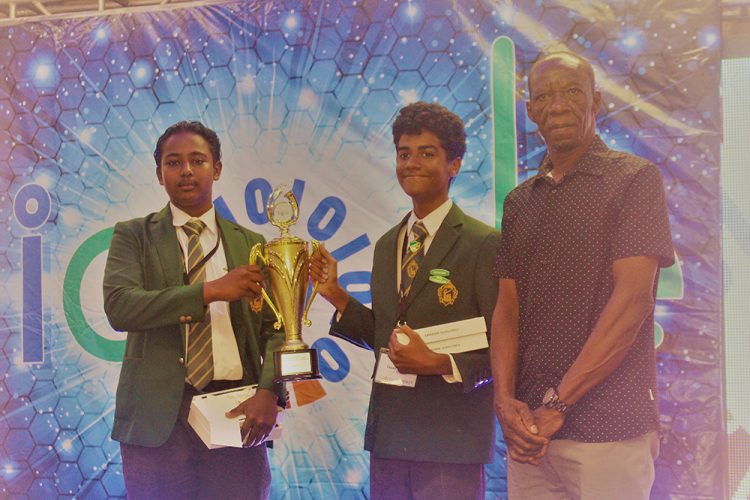 The St Vincent Grammar School's (SVGS) Astra seems to have a winning formula for the National Telecommunications Regulatory Commission's (NTRC) iCode784 competition.
The group, this year made up of Stanislaus Gomes and Isaac Cepeda, took the first place in secondary schools' idea category on Tuesday during the grand finale of the competition.
Taking the stage at the Methodist Church Hall in Kingstown, Gomes and Cepeda presented the idea "freight.io", a delivery/courier service mobile application.
Explaining the idea, Gomes said that if you are at work or home and can't get to a store, you can use the app to get someone to do the shopping for you.
"Like for instance if you want 10 packs of paper, you go on the app and say what you need and specify which store you want it from and a courier will collect it and you pay the delivery fee and the cost for the paper when delivered," explained Gomes.
The SVGS student said he would like to one day be in a position to have the application built and available to the public.
"We are happy that we won and will like to thank our mentor Jason Alexis and our IT teacher Miss Douglas for helping us with our presentation," Gomes said.
Coming in second in the secondary schools' idea category was the group GSS Gladiators from the Georgetown Secondary School (GSS) while third went to Rivals from the Girls' High School (GHS).
The other participants were Country Tech from the GHS, UISS Geo from Union Island Secondary School (UISS), UISS On-point 2.1 from the UISS, SciGirls from the St. Joseph's Convent Kingstown (SJCK), Project Tech from the GHS, U.I.S.S BIO from the UISS, and INCREDIBLE 3 from the Petit Bordel Secondary School (PBSS).
The winning team in the secondary idea category received a cash prize of $2000, the second-place team received $1000 and the third-place team received $800 along with other prizes including soft drinks from Ju-c and tablets and cellular phones from FLOW.