Posted on
No crime was committed – Nature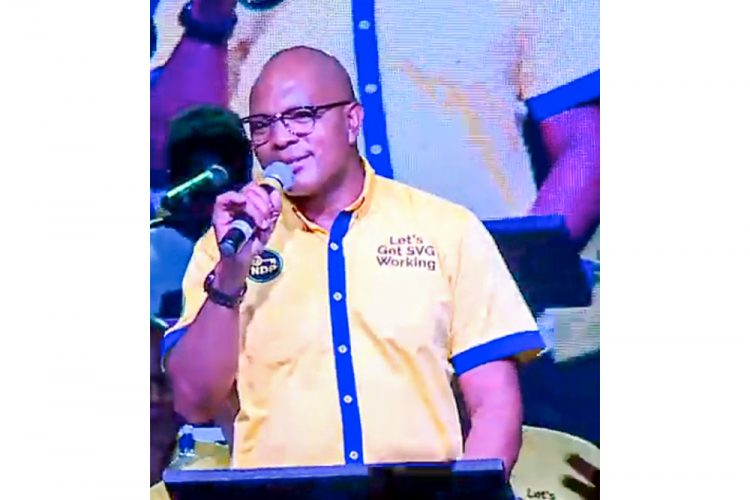 Nigel "Nature" Stephenson says that his comments over the weekend do not mean he has evidence that a crime was committed.
While speaking at a New Democratic Party 'Thank You' rally at Heritage Square on Saturday, Stephenson, parliamentary representative for South Leeward said he wanted to send a clear message to persons who may wish to intimidate voters.
"I want to send a message to a particular lawyer with a ponytail.
"The last person that brandished a gun on election day in South Leeward did not live to see the next election, but a certain lawyer with a ponytail that brandished a gun intending to intimidate the people of Campden Park, of South Leeward, but we would have none of that.
"A word to the wise is sufficient," Stephenson commented, while stressing that bribery and intimidation could not stop persons from voting for him in the last General Elections.
After Stephenson's comments, persons took to social media, questioning the remarks.
One such person was Asordo Bennett who ran as an independent candidate in South Leeward during the last General Elections but lost his deposit.
"So Nigel Stephenson Nature basically saying they killed the last man brandish a gun in South Leeward on election day…So they going to kill some Lawyer with ponytail now…smh…this level of violence politicians endorse in order to gain power…I want to send a clear message to Nigel Nature Stephenson…we not want them behavior they in we constituency…Peace…," Bennett wrote on Facebook.
But on Monday, Stephenson said his comments were in no way saying that anyone was killed because of politics or that he or anyone else had someone killed.
"The person died does not mean that someone was killed…foolishness," Stephenson said.
He noted during the 2015 elections, a well-known resident of South Leeward brandished a weapon at a polling station. That person later died in unrelated circumstances during a shooting in Kingstown.
Stephenson said he made the comment so that persons who have intentions of this nature could take heed and stray from paths that are wrong.
In the elections earlier this month, Stephenson beat newcomer, Mineva "Mini" Glasgow, candidate for the Unity Labour Party (ULP). Stephenson received 2957 votes to Glasgow's 2452, a margin of 505, up from 118 in 2015 when Jomo Thomas contested the seat on a ULP ticket.
On Saturday, Stephenson said that not too long from now, persons will be going back to the polls.
"…and the people of SVG will get the opportunity to install the government that you desire…our mission is not complete until we get into government," said Stephenson whose party has gained the popular vote but lost the North Leeward seat.
"No amount of bribery could not stop the forces of nature, no amount of bribery," he stressed.
He noted also that South Leeward is known for strong voter turnout as during the referendum in 2009, over 2500 persons from South Leeward voted "No".
Also taking the stage on Saturday was Benjamin Exeter who ran and lost in Central Leeward. He said that his party winning the popular vote means that the NDP is on sound footing.
"I am in the majority, you are in the majority of persons who voted for the NDP," he told supporters.
"That puts you in the majority despite what happened in the end. Despite the lumber, cement and galvanize. Despite the bribery in the masses you still voted for the NDP. They couldn't bribe you. Most of you couldn't be bribed and because of that we are still standing, we are still standing to continue the fight," Exeter said.
The NDP's candidate in Marriaqua Bernard Wyllie also spoke and noted that his party secured the popular vote because people accepted the programs and policies they put forward.
"We are happy you voted us the majority party and you are satisfied that the NDP provided a program that will enable all Vincentians to have a slice of the cake," Wyllie said while stressing that a day will come when Vincentians will not have to be in fear of discrimination . "The ULP used their vast resources to get votes. Soon every citizen will be able to vote without fear. The people have the power and not the Cabinet or police force and it is for the people to make the change," Wyllie said.