Posted on
New senator sees himself as a symbol of hope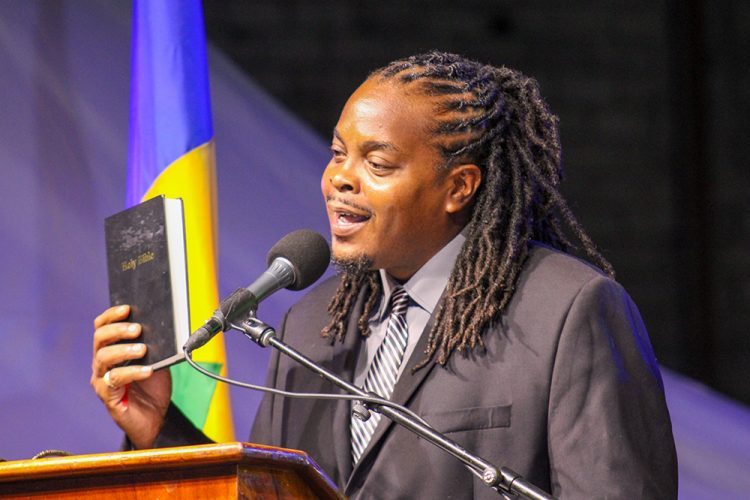 Rochard "Pitbull" Ballah is a bit nervous about his new journey, but sees his senatorial appointment as a move that gives young people hope.
Ballah, a popular disc jockey, radio host and lecturer at the St Vincent and the Grenadines Community College (SVGCC) has been appointed as a Government senator and sworn in as parliamentary secretary in the Office of the Prime Minister; Ministry of Foreign Affairs, National Security, Legal Affairs and Information.
During the swearing in ceremony of the Cabinet on Tuesday at Heritage Square, Prime Minister Dr Ralph Gonsalves pointed out that Ballah, originally from Biabou, will be the first person to sit in Parliament with dreadlocks.
Ballah however said his locks are so much a part of him, that he was shocked that something like that had to be highlighted.
"…I was in shock and then I said, this is true," Ballah commented to SEARCHLIGHT on Thursday.
He said when the Prime Minister said it, he was on the stage at Heritage Square and at that moment, he was taken aback by the magnitude of what he achieved, not only being the first dreadlocked senator, but being in a position to further impact the lives of the nation's youths.
He said that youths, or persons who may be judging themselves based on what society may have labeled them, should be able to look at his appointment and be positive, as he is relatable and a symbol for people in the communities.
Ballah, who is also known as the "Super Dog" and works part time as a disc jockey with Boom 106.9 FM said while he is a bit nervous, he is managing it well and he plans to bring a youthful exuberance to the House of Assembly.
"I will try to be as eloquent as I can and mix that with personality during any presentation that I have to make. I will not be outlandish or annoying, I will have respect for the setting," Ballah said.
"Once there are differences of opinion, you would have to be passionate and aggressive and I am looking forward to being positive while keeping it civil and injecting my personality into it," he said.
The Biabou man said he has always had some level of interest in politics and over the years people have suggested the political route to him.
"But this election when I was asked to do hosting for the ULP Youth Vibes and then to be an MC and I got a little taste of it, I said this is something I could go into probably for the next elections," Ballah said.
He noted that he would sometimes speak privately with his friends about his political aspirations and present parliamentary representative for South Windward Frederick Stephenson commented that he (Ballah) would be a good replacement for him.
"Some people were crying for a change during the last elections, but they don't realize that we (the ULP) are always changing and always evolving.
"Some people are stagnated and they need an impetus to open their eyes and help them come around and I think that when older persons step back and give young people the avenue, it would create a wave, a trendsetting thing," Ballah said.
He said he is not afraid to show his support for the ULP as his endorsement of the party did not start in 2020, but since he was able to vote.
"I have never voted otherwise, so it has nothing to do with what some people may see as an opportunity to make money or get power. I would like my voice to be heard and be able to make a difference and I believe the party, as of 2001 has evolved, and is evolving just like the population," the lecturer of 10 years noted.
"It is common now (going to university) and people are becoming more enlightened and any party who embraces the youth will always have a chance over the antiquated type of politics."
Ballah however disclosed that he would not be leaving his job as lecturer at the SVGCC just yet as he has a duty to his students and they have not yet finished their course.
"We are in the middle of the semester and it would be unfair of me and draconian to just leave the students high and dry without a replacement," Ballah said.
He also reassured that he would not be abandoning his fans on radio either, but in fact will be using this forum to appeal to the youths.
"People would know the radio is my connection with the people and to completely disassociate myself with the product, after many years of working in this field, and move on from that and go exclusively into government work will be unfair to people and me.
"If I do this, I would have lost the very essence that put me in the Prime Minister's Office," Ballah said while noting that Gonsalves is not opposed to him continuing on radio once it does not interfere with his day-to-day duties.
The new parliamentary secretary, who often mentions his late mother Judith "Patsy" Hull-Ballah on social media, said if she were alive she would be proud of him, but would also encourage him to think long and hard about entering the political arena, which he has done.
Prime Minister Gonsalves, speaking on radio on Wednesday said that Ballah, 36, who has a degree in media and communications, is being charged with the responsibility of making the state's communications and information machinery tighter.
He said he is hoping that Ballah can bring a different structural frame to the state's information systems, bridging the gap between the Agency for Public Information, the National Broadcasting Corporation, VC3 and the various communications officers in the ministries.
/Gonsalves said that despite the government's communications and information set-up, the message of the State sometimes becomes lost and these things have to be structured and coordinated.