Posted on
Salvation Army will begin their Christmas Kettle Appeal this Friday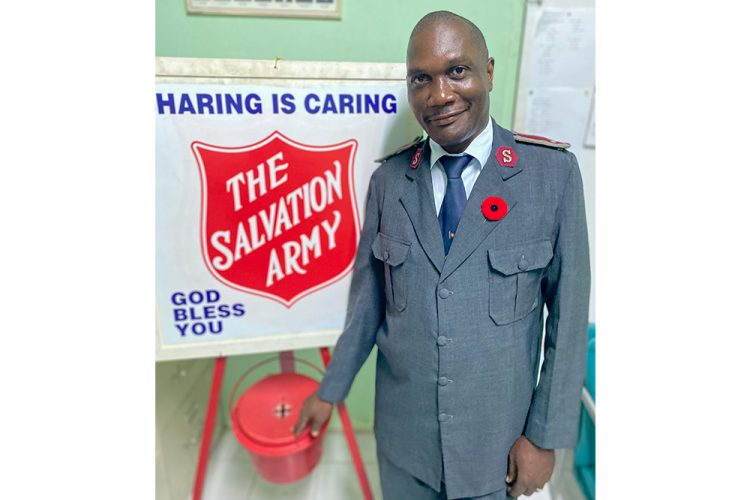 The Salvation Army will be beginning their Christmas Kettle Appeal in six locations this Friday, November 13, and they are appealing to persons to give generously to those in need.
Captain Ernest Gachelin spoke with SEARCHLIGHT at the Salvation Army headquarters yesterday, November 9, concerning the Kettle Appeal, which will not be formally launched this year due to the circumstances created by COVID-19.
For every year since time immemorial, the Salvation Army across the world has been conducting this huge fundraiser at Christmastime.
While last year, the Salvation Army had a goal of raising $100,000, they did not manage to achieve this.
Captain Gachelin noted that "the public knows already, where the money that we will raise in December time or Christmas time, is basically to feed the poor."
"We normally distribute about 1000 food hampers. We go to some homes, we go to the prisons, we go to as well the hospital and so on," he informed.
This year, the Kettle Appeal will be set up at Sunrise Supermarket in Arnos Vale, Massy Supermarket, Coreas Pharmacy, Courts, Singer, and People's Pharmacy. The Appeal will take place on every day except Sunday, and will run through to the end of December.
"Or anybody wants to donate, you're free to contact us here," Gachelin added, who can be reached at 430-6321 or 430-6496.
He asked that persons give generously, "because they know, I don't have to say where the money goes to, the people know where money goes to, so I'm appealing to them as they used to help in the past."
"Even during the pandemic, people support, we appreciate that and we appeal to them to continue to support the Salvation Army as we continue to reach out to the people," the Captain stated.
Gachelin also revealed that they do not know how many will be working with them this year, and that last year there were not enough workers.
"It is always important to have people helping us because there are days we had spots that had no people. And when we do that, when there is not enough people, we cannot raise the amount we supposed to raise," he disclosed.
"If anybody can come, even if the person cannot come for a day, it could be one hour because sometimes those who are working, they need time to eat during that time, so if there is nobody to release them, they will have to leave the pot by itself," the Captain continued.