Posted on
GG urges PM to reach out to the NDP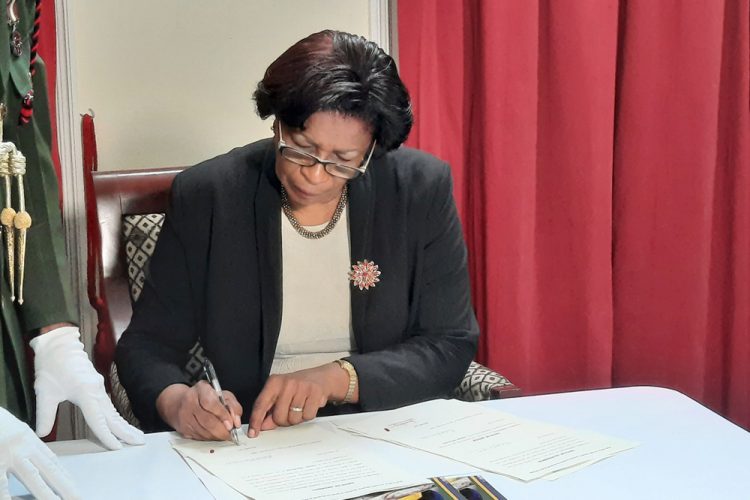 The Governor General has encouraged Prime Minister Dr Ralph Gonsalves to reach out to the New Democratic Party (NDP) as his Unity Labour Party (ULP) moves into an unprecedented fifth term.
"It's going to be challenging and I also urge you to reach out to the NDP because the popular votes have spoken and there is a clear message," Dame Susan Dougan told the Prime Minister last Saturday at Government House after he was sworn in.
Last Thursday, the ULP was re-elected to government for a fifth consecutive term, picking up an extra seat in the process. The party however only managed to secure 49.6 per cent of the popular vote.
In her address, Dame Susan said she sees it as important for all of us as citizens to move on, and speaking directly to the PM and the ULP, she encouraged inclusion and healing.
"The elections seem to be behind us and we have to start to build our country up again," she said while adding, "I notice that the campaign was keenly contested. It was also very competitive and it was also well organized."
She said that this speaks of our processes and shows that we have a mature democracy here.
"As Governor General, I will support all and I urge you, Prime Minister, to continue the way you have governed, with your party in including all.
"I hope to see a high level of participation. I also hope to see that inclusive policy and for a platform for communication and collaboration at the community level," Dame Susan said.
"I would also like to ask you to create a structure for healing in our society because I know that emotions are high at this time and we would like all persons, that at the end of the exercise, the elections, we all have to continue to build our nation," she added.
The GG also thanked the electoral office for what she considers a well-run election and one that shows a democratic process, "we can be proud of."
The swearing in ceremony also saw Montgomery Daniel sworn in as Deputy Prime Minister and Jaundy Martin as Attorney General (AG).