Posted on
Voters in Central Leeward predict Brewster's triumph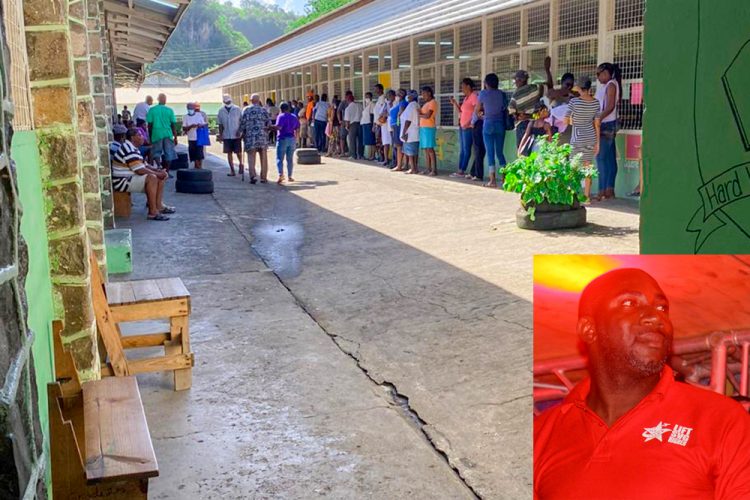 SEVENTY-THREE percent of registered voters in Central Leeward stood in long lines to mark their X on Thursday, November 5, exercising their right to choose a constituency representative.
And long before Dr Orando 'Randy' Brewster of the Unity Labour Party (ULP) sailed to victory with a 503-vote lead over Benjamin Exeter of the New Democratic Party (NDP), some voters in Layou had already predicted that he would win by a large margin.
One man who uses a walking stick for support since suffering a stroke, indicated that he came out to vote that morning because "I have to come exercise my rights. I can't leave my rights to just waste down so."
The individual informed that he is distantly related to one of the candidates, and believes that person will represent Central Leeward well.
"They say he is a doctor and I know he will help us," the man noted, especially so in healthcare, "Because all now so I am sick."
He expressed the view that Brewster would win, "because a lot of young people here supporting Orando. Long time I realize Orando will pull it off because he usually busy," adding "And bigger than the last time too, bigger than the last time with Straker."
Sir Louis Straker was the ULP candidate for Central Leeward preceding Brewster, and won the seat in 2015 with 2497 votes, over Exeter's 2184. The results declared by the electoral office this year show that of 6,745 registered voters, 2700 cast their votes for Brewster, while 2197 cast for Exeter.
A farmer and tradesman who has been voting since 1989 indicated that he came out to vote because he liked what the Government was doing, "and it's my right to vote to keep them another five years again."
He continued that he couldn't vote in 2015 because he was in Toronto but, "for what I observed on the 'net and whatever it was a little bit tight, but this one is like clear indication like the ULP is gonna form Government in a large way," he speculated.
"…The writing is on the wall, straight up," said the farmer who indicated that he was going to spend the rest of election day in the mountain.
"It's gonna be a big win for the ULP, big, big," he added, and estimated that 90 per cent of the voters he saw at the polling station were ULP supporters.
Another woman who said that she waited a really long time in line, said that she voted because she wants her side to win, and explained that she needs help and decided to come to mark her x "to see what may be come my way."
A 39-year-old who is active in politics and has a party that he follows, said that the issue he was looking at for his vote this year was "Leadership", "In terms of the crisis happening all around the world and the best leader for it."
Other than slight tensions, persons disclosed that the process was peaceful.