Posted on
Over 1000 SVGCC students receive $500 award from Government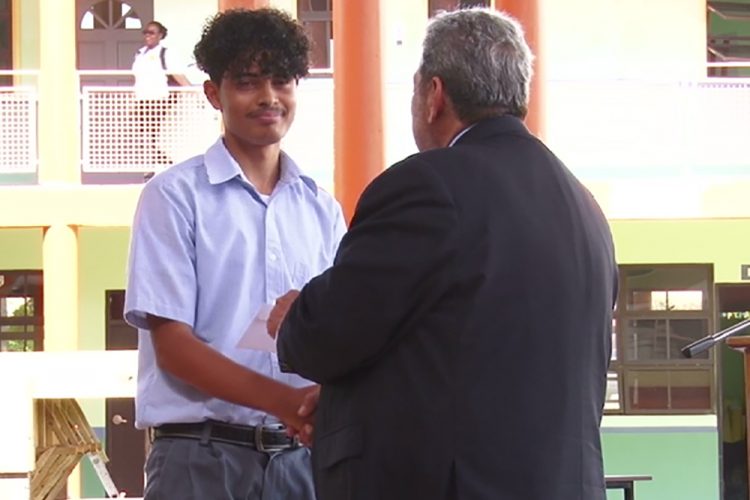 Students of the St Vincent and the Grenadines Community College (SVGCC) who were successful at this year's CSEC and CAPE examinations earlier this week received a $500 incentive award for their performance, an initiative which was instituted by the government of St Vincent and the Grenadines (SVG) in 2008.
The award ceremony saw 1,047 students being rewarded. To be eligible for this award students had to gain at least five CSEC passes, (Grades 1- 3) including Mathematics and English A. CAPE students were required to gain at least 2 unit subjects from (Grades 1 – 5) as well as Communication Studies or Caribbean Studies in two consecutive years.
Students attaining Associate Degrees must have gained at least a B average.
Stressing the effects of rewards and punishment, Prime Minister Ralph Gonsalves, spoke of the importance of having an incentive to motivate students to work towards successfully achieving their goals. The Prime Minister drew reference to Jamaica and their willingness to replicate this model of rewarding successful students instead of their current system of the initial payment for all students sitting these exams; which often results in wastage of resources. The Prime Minister said "it is better to use that money as an incentive for those who do well."
Minister of Education St Clair Prince urged "students to continue in the spirit of Excellence," adding that the students are the "ultimate beneficiary of an education revolution that values the intellectual capital and collective will of our people as the catalyst to stimulate growth and development." The Education Minister noted that the students are deserving of the accolades since they have "persevered and triumphed" while experiencing one of "the worse pandemics in our history." Prince said "the award of $500 is a result of a policy decision of Cabinet and is designed to assist students in defraying school expenses, and in particular cost associated with sitting external examinations."
Permanent Secretary in the Ministry of Education, Myccle Burke, noted that the government has seen it fit to continue to make students a priority and to offer an award of $500; with the limited resources available globally. The Permanent Secretary said, the government's efforts must be commended and supported.
This year the government's award programme for students with exemplary performance amounted to total of $523,500. A total of 630 successful CSEC students, 209 CAPE and 208 students who successfully completed their Associate Degrees all received the $500 award.(API)