Posted on
Browne outlines 10 point plan for East Kingstown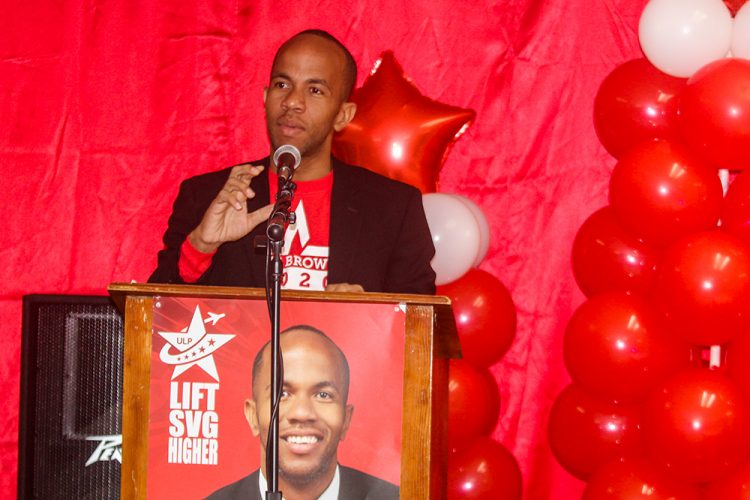 The Unity Labour Party (ULP), through its candidate Luke Browne, has come up with an extensive plan for the development of East Kingstown.
Last Thursday, Browne, the ULP's East Kingstown candidate, unveiled his 10-point plan during a website launch at Frenches House. The plans for the constituency are detailed in the website, www.lbforeastkingstown.com.
"I don't want you to form the impression that we are starting from scratch. Nothing could be further from the truth.
We are starting from a platform which was built up by hard work," Browne said during the launch of the website while noting that a 10-point plan does not mean 10 things, but that the plans come under 10 different headings that offer something for everyone in the constituency.
The headings are: Resurgence of Sports; Revival and Renaissance of Culture, the Arts and Entertainment; Advancement in Education; Transformation in Health and Public Health; Revolution in Jobs/Employment and Entrepreneurship; Enhancement of Public Infrastructure and Community Facilities; Improvements in Housing and Land Distribution; Protection and Promotion of Public Welfare and Physical Security; and Strong Leadership and Active Representation on all the issues.
Browne said that representing people is an important venture and must be taken seriously, hence his detailed plans for the constituency he was born and grew up in.
He said that several projects and initiatives have already been implemented in the community, including sporting, educational and employment projects, but he has a lot more to do in the community.
He stressed that East Kingstown is rich in culture and as a result there are plans to upgrade the steel pan yard, hard court and community centre in Sion Hill Village to the tune of $400,000.
This involves the installation of floodlights at the facility. He said that Sion Hill has created the champion side — The Sion Hill Euphonium steel orchestra and that organization has molded a lot of persons. Phase one of this project, costing EC$175,000 has already started.
Other plans include the establishment of an employment agency, attachments and internships (placement options: Joyette's Garage, Star Garage, Mechanic Outlets in the Plan, and elsewhere), additional PRYME grants to constituency-based entrepreneurs and business enterprises and a multi-million dollar road works programme including footpaths, drains and sidewalks.
He said that special attention will be paid to persons who work with their hands, craftsmen, mas men, steel benders and others.
"We have many talented young men into music and who are interested in recording music. In recognition of that fact we are going to push for the creation of a state of the art music production and recording studio," Browne said while noting that he knows persons who have done great things out of makeshift set-ups.
"In Luke you are going to have a representative that helps you develop your craft and make a contribution to the cultural heritage of this country," Browne promised while noting that focus is being placed on the elderly, healthcare and the youth.
He said the plans for the area emerges from a deep understanding of what is happening in East Kingstown.
Browne, who is hoping to defeat the New Democratic Party's (NDP) Fitzgerald Bramble in the Thursday November 5 elections said that active representation means being there for constituents in a pro-active way on all matters that affect their lives.
"I remember helping a lady who had a high water bill because of a leak and who did not know it was possible to apply for a refund/rebate and who was having a hard time navigating the system.
"That is an act of representation. Those simple things matter. On another occasion, I helped resolve an issue of stipends being withheld from nursing students because they got pregnant during the time of their studies. I did not think that was right," Browne said.
He added also that active representation, in summary, is about doing whatever it takes to help people live a better quality of life, even when they may not recognize their own possibilities.
"This is what I plan to provide for the people of East Kingstown," he said while speaking about CPEA classes, plans for transportation to help persons living in the Dorsetshire Hill area and plans to eradicate all outside toilet facilities in the area.
He said also that he while he is ready, he needs the support of persons to make things work.
He said also that there are currently plans for a new parliament building and a hall of justice in East Kingstown and that says a lot about the community.