Posted on
Bacchus-Baptiste issues stern warning to voters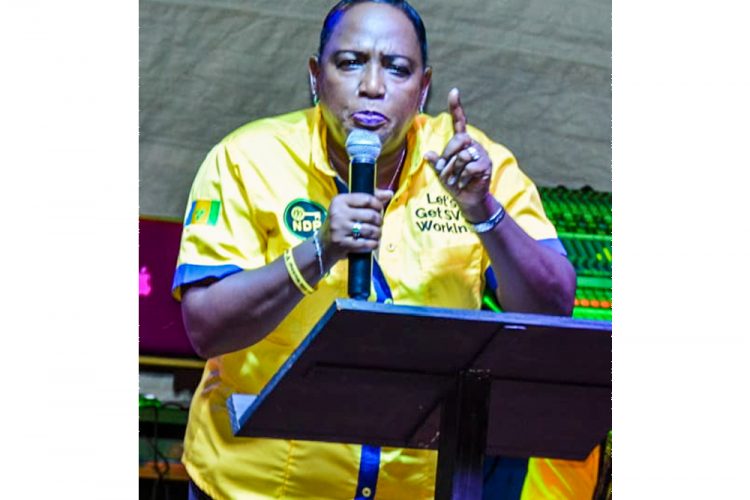 The New Democratic Party (NDP) were scheduled to meet with the Supervisor of Elections yesterday, November 2, to make a case for the removal of certain names from the voters' list.
"Tomorrow, the NDP has been invited to have a meeting with the Supervisor of Elections (Dora James) and there are a number of issues of persons' names on the list that should not be there that we intend to take up with her and ask her to exercise her right under s (7) of the Act," West St George candidate for the NDP, Kay Bacchus-Baptiste stated at a political meeting on Sunday, November 1.
The lawyer noted that under section seven of the Representation of the People Act (RPA), the Supervisor has the power to uphold objections and remove persons who are illegally registered from the list.
If the Supervisor does not uphold their objections, Bacchus-Baptiste stated: "I am warning you people if you come to vote and you know in your hearts that you were not supposed to be registered in the constituency that you're voting in, it is an offence punishable by a fine and imprisonment."
The lawyer said that she had received a letter concerning 14 persons who it is claimed have been transferred or registered illegally in East Kingstown.
"We also have some of that in West St George," she submitted. Bacchus-Baptiste said that there is a young man in West St George whose mother brought him to be registered in West St George, "when he never lived a day in West St George."
She said that she approached the registering officer with this information, and he said that he would look into it.
"After about a week or so passed, he got back to me and said, the young man was registered since 2015, 2014, so what you're hearing cannot be true," she recalled.
"I said let me tell you this, that young man just turn 18; he was not registered since 2014 and I can tell you for a fact they usually put a polling division by his mother's house; I know who I'm speaking about," the candidate stated.
Therefore, with the knowledge that she had persons who were willing to come forward and swear to this, she wrote a letter of objection. Following this, she said that the Supervisor of Elections called her to say that the name was going to be taken off the list.
However, the counsel did say that she was going to give the registering officer the benefit of the doubt, as there are two others of the same names as the young man, also on the list.
"I say this to tell you that you have to stand up for your rights," she said. "I'm saying that if I was not thorough and if I did not persist that would have been an illegal voter," Bacchus-Baptiste also claimed.
Within her speech, the lawyer reiterated that she has been on the radio, delivering "Election Watch", an informational segment on the RPA.
Therefore, "You have no excuse to say you don't know, but I'm giving you one last opportunity. All you 14 people in East Kingstown who think you're going to come out to vote on the 5th knowing full well you have not been living there think again," she commented.
Additionally, "Those of you registered in all the other constituencies, including West St George, who think you're going to be bold enough to come out, I am putting you on notice now," she said.
There will be a team of lawyers standing by, she promised, "and if you come and vote and you know that you were not supposed to do it, you will be committing an offence, and you will be held accountable."
She said that that was not a threat to the thousands of persons who are properly registered. She advised these persons to exercise their right, and "vote with your conscience."
"But we are not going to permit fraud in this 2020 election. The NDP has promised you that, we are not permitting fraud," the candidate assured.