Posted on
SVG is the breadbasket of Southern Caribbean – Caesar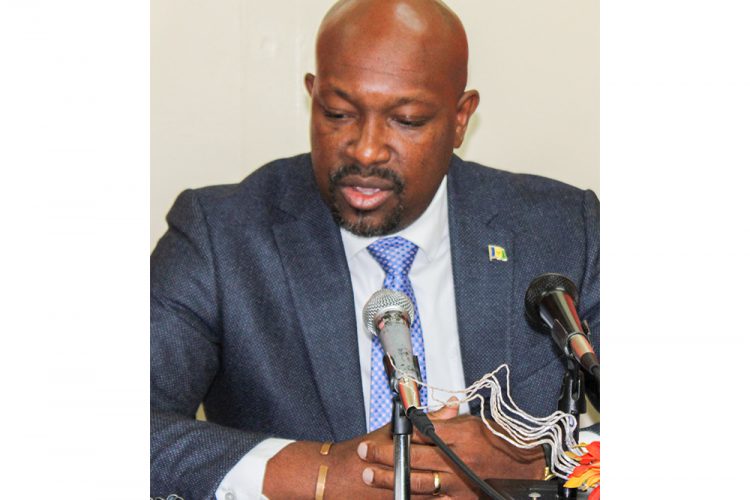 Under the Unity Labour Party (ULP), farmers and fisherfolk in St Vincent and the Grenadines (SVG) have exported more fish, fish products and farm animals than under any other government.
Minister of Agriculture, Forestry, Fisheries, Rural Transformation, Industry and Labour Saboto Caesar said on Sunday, that because of this, we are number one in terms of exporting livestock in the Organization of East Caribbean States (OECS) and can safely refer to ourselves as the breadbasket of the Southern Caribbean.
"Food security is alive and well in this country and we have the most diversified agricultural sector in the OECS and agriculture will continue to be a central pillar in the fifth term," Caesar told persons in attendance at the Grammar School Playing Field.
Caesar who is contesting the South Central Windward parliamentary seat said that with preferential treatment being a thing of the past, it is important that we grow our own foods and eat what we grow.
"The COVID-19 pandemic has revealed even further how important agriculture is and when the history books are written, it will reflect that Ralph (Prime Minister Dr Ralph Gonsalves) handled the pandemic well and we did not have to beg or borrow food because of the farmers," Caesar said.
Caesar noted that if given a fifth term, the ULP administration will continue to improve on production technology on all levels, from the farm gate to the supermarkets shelves. He said the government will provide more plowers, tillers, packing equipment, extractors and other farming tools to farmers.
"More will be available as we lift SVG higher.
"The construction of hotels means that farmers and fisherfolk will go to the seas and lands more, to produce for the tourists that will be coming. Under the ULP there will be opportunities and jobs and possibilities for wealth creation," Caesar said.
He said that in the fifth term, the government will continue to strengthen the medicinal marijuana industry.
"Not a single ganja farmer will be left behind. Before October ends, the first phase of land distribution to farmers in North Leeward will take place and in the fifth term, more lands will go to ganja farmers," Caesar promised while noting that the New Democratic Party's (NDP) North Leeward candidate and agriculture shadow minister Roland "Patel" Matthews does not have a plan and is clueless on issues like medicinal cannabis.
"Patel wants my job and telling people to plant five ganja plants in their backyard. He is crazy. He will destroy the ganja industry if he allows the planting of five ganja plants in every backyard," said Caesar.
Boasting about food production, Caesar said the government, during the pandemic, managed to distribute over 20,000 "Love Boxes" of food throughout SVG while over 15,000 sacks of fertilizer were sold at half price. He noted also that over 5000 farmers will soon get $500 each for COVID-19 support.
Caesar said also that the government is looking to strengthen the praedial larceny laws as, "a lot of people want to go on farmers lands and reap what they did not sow. We will ensure stiffer penalties for them."
He said the ULP's manifesto speaks about the enhanced role of cooperatives and together we must continue to build on positives of this nature.