Posted on
Stop using my image on posters – Yugge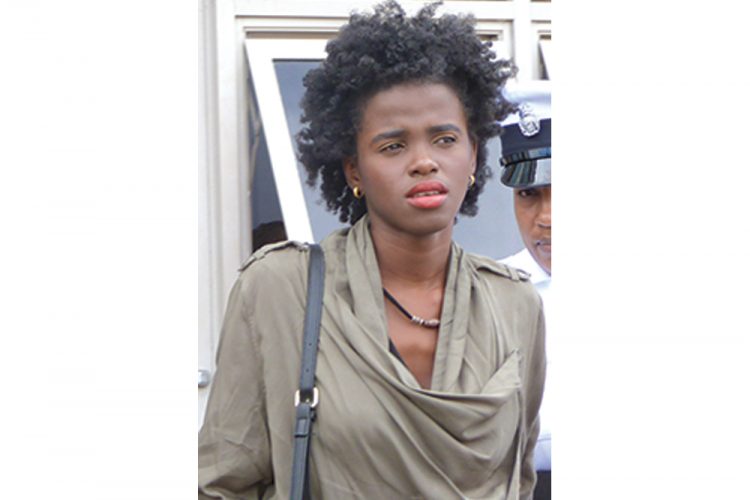 No permission has been given to anyone to use the image of model and social media personality Yugge "Jahdatta" Farrell on posters or merchandise and she and her mother are asking persons to desist from doing so.
On Thursday, Gailene Farrell, Yugge's mother made an expletive laden appeal in Kingstown to persons aligned to the New Democratic Party (NDP) to refrain from using photos of her daughter for political purposes.
In 2018, Yugge, then popular model, now a social media personality and musician became the subject of intense scrutiny after she was arrested, charged and remanded for observation to the mental health facility at Glen.
She was charged on January 5, 2018 with causing a breach of peace the previous day by using abusive language, to wit "you dirty bitch", to Karen Duncan, wife of finance minister Camillo Gonsalves. It had been alleged that Farrell had an affair with Camillo.
After several adjournments, the case against Farrell was dismissed on December 17, 2018 for want of prosecution.
Farrell's case attracted international attention and since the beginning of the 2020 election campaign, some persons supporting the NDP have been using her issue as a political beating stick to attack the ULP.
Political activist and sailor Travis Harry and others have been promoting posters featuring the image of Farrell and have been placing them on walls throughout the country. Harry has posters of the model stuck on the outer walls of his home in Glen.
But on Thursday, the outspoken Farrell, who uses the moniker "Jahdatta" on social media, took to her Twitter account, asking persons to not buy merchandise with her face on it.
"Stop buying dem jerseys, I ain't give nobody permission to use my image on their merchandise, that's infringement on my name and a divide to my music fan base in St Vincent, somebody go rip dem posters down for me dey, I ain't no political poster child, I'm a musician," she tweeted at 6:59 a.m.
Later that morning, Farrell's mother took to the streets of Kingstown, shouting, "Five in a row", ripping down her daughter's posters from walls in the Market Square.
She said that no one had been given permission to use her daughter's photo.
"None at them nah give me nothing…nobody duh say hey, Gailene…"
" 'Five inna row' in dem….ah da ah kill them!" she shouted, reciting a slogan of the ULP campaign.
"NDP get permission to put up placard. Labour get permission to put up placard…so wah me be? Me ah animal? Them car ask me? Ah this them war use to win?" Haul aryo…ah 'five inna row'…," she shouted.
Commenting on Facebook, Travis Harry said the photos were not of Farrell.
"No one using Yuggie photo. It's an art of an African woman," Harry commented while advertising that t-shirts with the image will be released today Friday, October 30 and distributed free of cost.