Posted on
ULP supporter nominated as independent candidate for South Leeward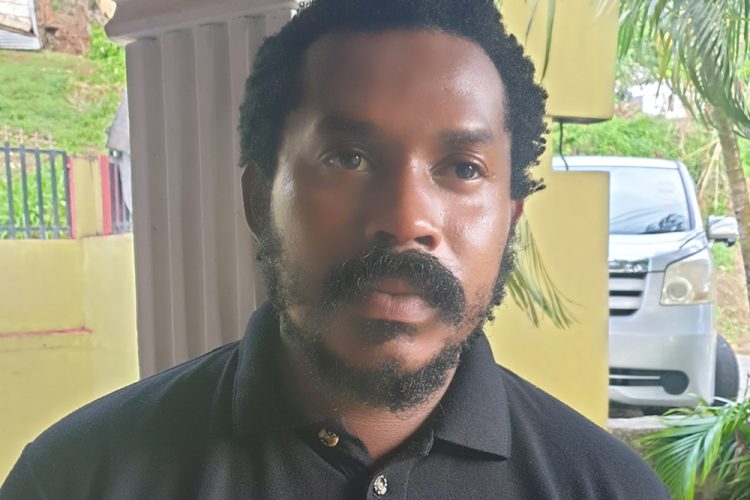 LOCAL GOVERNMENT and long term economic support for small businesses are some measures that need to be addressed in St Vincent and the Grenadines (SVG).
And issues like these are what have caused Asordo Bennett to seek to become the parliamentary representative for the South Leeward constituency.
On Nomination Day, October 20, Bennett, a businessman from Rilland Hill, threw his hat in the political ring and entered the 2020 election race.
His party's color is black and its symbol, a bullhead.
Bennett who turns 35 today Friday, October 23, told SEARCHLIGHT that politics is in his blood, having grown up in a family that was and still is deeply involved in Vincentian politics.
"My grandfather use to be on the road blowing shell for ULP and I grow up around NDP family too. I have family in Campden Park from Jerry Scott…so politics always around me," Bennett told SEARCHLIGHT from his living room in Rillan Hill on Wednesday.
The independent candidate said he is a supporter of the ULP and he is close to Prime Minister Dr Ralph Gonsalves and the ULP's General Secretary Julian Francis, so he does not want persons to think his entry into the political arena has anything to do with any falling out between him and the ULP.
"Me ah ULP supporter. Me ah support the PM and Julian, and basically I like the ULP's policies. I don't have a vengeance against the PM or anything. It's just a personal political journey that I want to build on.
"I am at the perfect age to get involved and even though I am close to the Comrade and Julian, I still have to make a move within by life and journey," Bennett said.
He said he is not looking to take votes from the ULP or the NDP although he is interested in becoming a representative of the people.
"I just start and I have a long way to go and I am not hoping to cause disrespect," Bennett told SEARCHLIGHT.
He said South Leeward has had Nigel "Nature" Stephenson as a representative for a while but ULP candidates are being changed too frequently, "from David Browne, to Jomo Thomas and now Mineva Glasgow."
"Basically, the way me know South Leeward, South Leeward always like, a minister will come and go with ULP. Nature hold the seat for a while, but for ULP, candidates come and gone so I say South Leeward seat neglected by the reps.
"So as a young man you have to see the pattern. Watch the age of David, Jomo and Mini. How much time they can put in? My thinking is, you have to build a vibe, show integrity, so you need time and I say now is a good time for me to build that vibe," Bennett reasoned.
He said he is in a situation where he knows he might lose his deposit, but he is in it for the long haul.
"You might lose this election, but next election people look for you. People might be familiar," he said while hinting at a merger as happened between the St Vincent and the Grenadines Labour Party (SVGLP) and the Movement for National Unity (MNU) that formed the Unity Labor Party (ULP).
Bennett said he is intimately involved in his community and at one time, led one of the biggest community groups in South Leeward.
He recalled that he was once arrested when he protested over funds for a community project.
Explaining what happened, Bennett said he, through his community group applied for funds through the Social Investment Fund (SIF) to transform the community centre in the area.
He said they were assured that the funds would be provided but that later changed and persons were saying that he had the money and was keeping it for himself.
Bennett said after the rumours began circulating, he met the person who was in charge of SIF and told him that he should come to the community and explain to persons that the money was withheld.
The person refused and according to Bennett, a story was given to the police and he was charged but the matter was thrown out in court.
He said after he won the case, he wrote to the European Union (EU) explaining to them what had happened.
"As a young man, I write to certain organizations and I have community spirit so it is only right for me to make the move forward," said the candidate who is involved in the medicinal cannabis industry with his brand called Climate CBD.
He noted that in South Leeward, most persons have good homes and vehicles, but the main issue is financial stability while many small businesses are set up to fail.
"We have good infrastructure, housing and education in South Leeward but we have a bad financial structure and that gives us the belief to feel the government not doing anything.
"We need programs that help families different than poor relief and PRYME," Bennett said while stressing that youths need to be taught better financial and business management strategies.
"People live a stable life in South Leeward, some places need roads, but we want a proper financial structure to aid with agriculture and small business…programs that can last, not programs that come and then end, programs that help persons until they elevate," the newcomer said.
His predictions for the next General Elections is 8-7 in favour of the ULP.
"It look to me like the ULP will form government. I have nothing against the NDP, but when people listen what both parties offering, people will choose the ULP because in 2020 peoples' views change towards life," said the father of two.
"I will not be campaigning because the time close and I have no team or finances, so right now I will just represent and tell people to support who they want to support.
"I follow politics and if you study our political history, you would see the trend, and anything can happen," Bennett said.
Bennett will go up against the NDP's Nigel "Nature" Stephenson and the ULP's Mineva "Mini" Glasgow.
"If you in South Leeward and you see a bullhead with a black colour on your ballot sheet, that is me. You don't have to vote for me at this early stage, but one day I know same as my great Leader Comrade Ralph, I will fill the shoes with the sweet stories to tell," Bennett said.