Posted on
Hat trick for GHS in Schools' National Public Speaking competition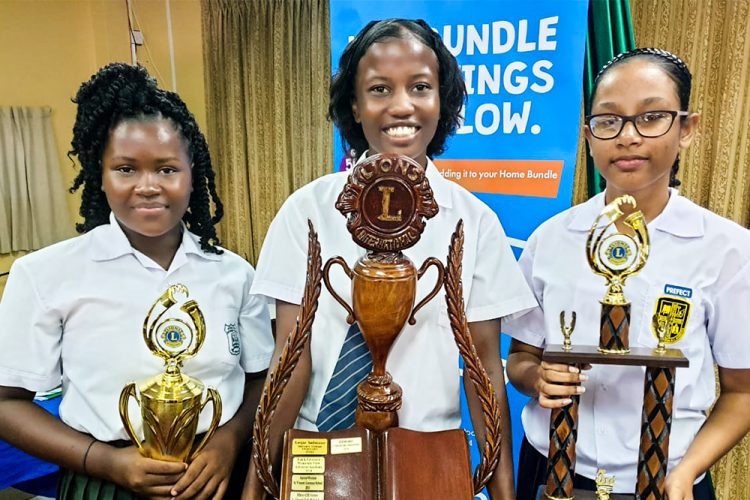 THROUGH MARIKA BAPTISTE, the Girls' High School (GHS) did a hat trick in the Lions Club St Vincent South Flow Secondary Schools' National Public Speaking Competition.
The 2020 finals were held at the Methodist Church Hall in Kingstown Thursday night, October 22 and saw Baptiste take the top spots in the student prepared speech and the impromptu categories. She amassed a total of 394 points on her way to the public speaking throne.
"I am very excited and I am happy that I made my parents and my school proud," Baptiste told SEARCHLIGHT after her win.
She said going into the competition she had her doubts, but her aunt told her to believe in her preparations and she is happy that she was able to pull off the win.
"I would like to thank everybody who helped me including my aunty Heather [Marshall] who stayed up with me all night when I cried. I would like to thank everybody who was behind me and even my best friend for coming out," Baptiste said.
She added that she hails from the North Windward village of Fancy and this sometimes makes people think she is at a disadvantage in many things, but that is not the case.
"I never think that it is a disadvantage, but I know some people see it that way, but I will continue to stay true to myself," said the lass who used Garifuna words and phrases in her student prepared speech dubbed, "Challenges faced by people over the Dry River." Her impromptu topic was "Giving Thanks." She scored 133 points in her student prepared speech and 74 points for impromptu.
She noted also that she was happy to place above Stanislaus Gomes of the St Vincent Grammar School (SVGS) as he defeated her a few years ago in a primary schools public speaking competition.
Baptiste is no stranger to success as she had exceptional performance in the area of Language Arts in the 2016 Caribbean Primary Exit Assessment (CPEA).
Eleven years old at the time, the Fancy resident who attended the Fancy Government School gained 94 per cent in Language Arts, the highest score. She tied for the top Language Arts grade with Petersville Primary School student Rianna Blake. The two are friends today and Blake came out to cheer her on Thursday.
Also, in 2018, Marika was the GHS's junior athletic champion and the Victrix Ludorum at the annual sports meet. She is presently captain of the school's netball team and vice captain of Headmistress house. In second place was Kenally Texeira of the Georgetown Secondary School (GSS) with 382 points. She won the 'Best Main Topic' category, speaking on, "Politicians across the world are using COVID-19 pandemic to their advantage, whilst medical officials are at their wits end trying to gain their voice." She scored 215.5 points in this category.
She said her position was acceptable as she went over her time in two categories.
"I did well and I am glad that I can put my school in the second position.
They have never been second before and I have broken a record so I am grateful and very excited and happy to go back to my school with a second place," Texeira said.
"I went over time, but that happens and to me everyone did well. I could have done better in the impromptu but I lost track of time," she added.
In third place was Arianna Jardine of the Mountain View Adventist Academy. She scored 337 points.
"I am disappointed because I expected to do better, but I am still grateful I placed," Jardine told SEARCHLIGHT. She thanked her teachers and family members for helping her prepare.
The other students participating in the finals were Stanislaus Gomes of the St Vincent Grammar School and Jia Gloster of the Union Island Secondary School. Charity Hope of the St Joseph's Convent Marriaqua dropped out.