Posted on
Gonsalves outlines ULP's plan to tackle unemployment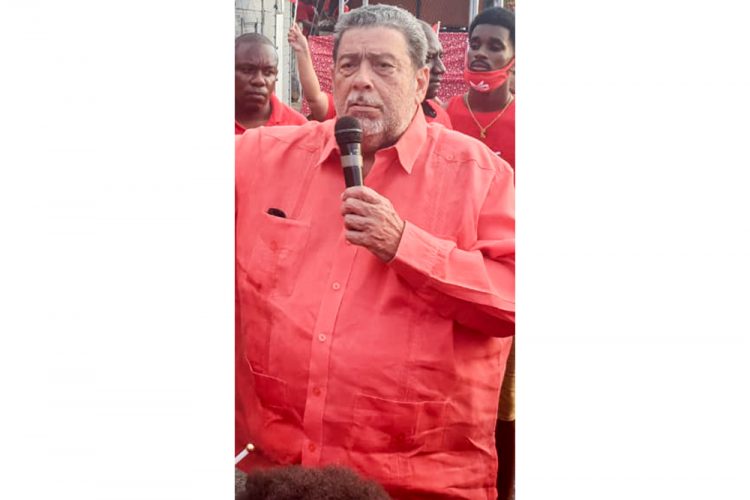 THERE IS AN unemployment problem in St Vincent and the Grenadines (SVG) but we can't solve it by just talking about it, Prime Minister Ralph Gonsalves told party supporters on Saturday.
"We have shown that we have plans," Gonsalves said in Georgetown to a large red clad crowd.
He said statistics show that there are 12,000 more persons, "actual people, employed today in St Vincent and the Grenadines than were employed in 2001 when we (the Unity Labour Party) came to office."
He said this is commendable as between 2001 and now, the population increased by just over 2000 persons.
"It means therefore that the rate of persons getting jobs was 10,000 more than the increase in population. I am not dealing with percentages. I am dealing with real flesh and blood people," Gonsalves stressed.
Speaking at the relaunch of his party office in North Central Windward, the ULP head said persons who are able to work should prepare themselves for even more work as the ULP is building hotels, and apart from construction, the hotels will need staff.
"These are not just fly by night things you know. You ask Friday what he going do about jobs — sell passports, You ask Friday what to do with Agriculture — sell passports, You ask Friday what to do about tourism — sell passports and when the old man ask him, 'you don't have any policy other than selling passports?' Bramble say, 'yes we have a toll you have to pay to come from Sion Hill to go to Town'…" Gonsalves said.
Gonsalves was referring to the plan of the New Democratic Party (NDP) to introduce a Citizenship by Investment (CBI) programme in SVG; and the suggestion by Fitz Bramble, the party's East Kingstown candidate, for a toll both at Sion Hill. Bramble has since withdrawn the idea.
Gonsalves said that jobs are being created in SVG as at Peter's Hope there are 50 persons working to finish the Black Sands villas, while at Mt Wynne, the $50 million Marriott hotel project will soon commence. He added that shortly, construction will begin at the Sandals Beaches resort at Buccament.
"That is more jobs…," Gonsalves said, while adding that the Royal Mills hotel construction project in Ratho Mill currently employs 160 workers while the management of that entity has also refurbished the former Grand View Hotel.
He added also that in Canouan, a major hotel chain, Soho House, is looking to set up shop.
"All of those hotels will add about 1200 to 1300 rooms and each room will need two and a half persons per room so you talking about over 3000 working on an ongoing basis," Gonsalves stated, while noting that the farmers and fishermen will sell a lot of food to these hotels.
"Ask Friday where he's going to build, he can't tell you. What he is going to build? He can't tell you. Sell passport," Gonsalves commented.
"Never will Vincentians, the children of Chatoyer, allow our passports and allow our citizenship to be sold as is if eddoes and tomatoes…no way," Gonsalves stressed.