Posted on
Public urged to adhere to service stations safety protocols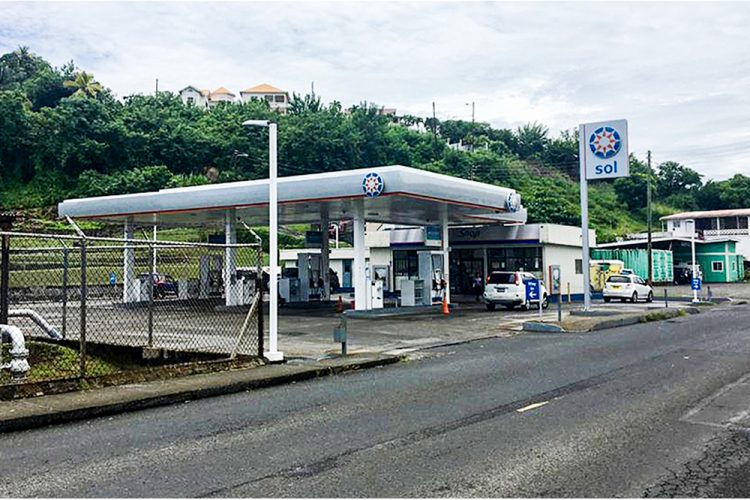 Management of the SOL Banfield service station is appealing with the public, motorists and van drivers to be mindful of the station's safety protocols and desist engaging in potentially harmful activities.
The gas station, which is located on Grenville Street, held a "stand down" for one hour on Tuesday, October 13 during which it sought to highlight some dangerous practices that have been taking place in an effort to put an end to them.
"Many of you will be aware that since the station was rebuilt about two years ago, we have reoriented the flow of traffic and because of that change in the traffic flow, we are witnessing a situation where the traffic is now becoming uncontrollable," Steve Francis, the SOL general manager said.
He noted that people were driving through the gas station despite signs saying "no through way". Francis also said that some minivans were using the gas station as a bus stop.
"It cannot and should not be used as a bus stop. I repeat, this is a gas station," he said.
Francis noted that it was particularly important to highlight the dangerous practices in light of fires that have taken place at gas stations within the last year.
The general manger first mentioned an incident in Jamaica in 2019 where several persons were killed and many properties destroyed.
He also referenced the fire that took place at the gas station on Union Island earlier this year, which claimed the lives of three persons.
"We really do not want a repeat of what transpired in Jamaica and what transpired in Union Island so we really have to take necessary action in bringing to your attention what should not be happening so I'm asking the general public not to use this gas station as a throughway. Don't walk through as freely as you think you should because you do not know what can go wrong at any particular point in time," Francis advised.
He also cautioned passengers entering vans who use the service station as a bus stop to pick up passengers.
The general manager said he was doubtful that vans have insurance coverage in the event of a catastrophic incident and that passengers were putting their lives at risk when they participate in these kinds of activities.
Several pamphlets with safety guidelines were distributed to members of the public during the stand down.
The public is being reminded that there should be no smoking at gas stations and drivers should turn off their engines when going to purchase petrol or diesel.
Persons should also switch off mobile phones at gas stations and only approved containers will be filled with petrol as any other containers used could result in catastrophic consequences.
Francis said that while they may not be able to constantly police persons using the gas station as a throughway or van drivers picking up passengers, he is appealing with the public to be more aware of the hazards and act accordingly to avoid them.