Posted on
GECCU bursary recipients encouraged to 'pay it forward'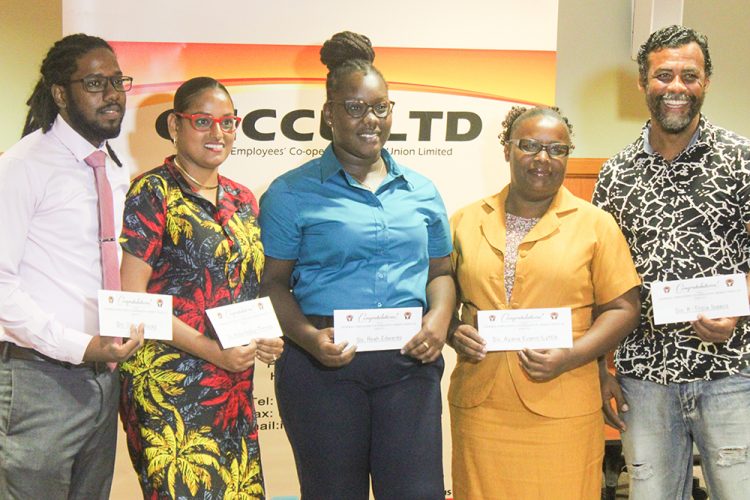 Five university students who received GECCU bursaries this year have been encouraged to "pay it forward" when they complete their studies.
The 2020 bursary recipients are Rhea Edwards, Odion Hillocks, Andia Hadley-Thomas, K-Tricia Isaacs and Ayana Evans.
All recipients were lauded for having outstanding GPAs of 4.0 or above and were encouraged by speakers at Wednesday's handover ceremony to continue excelling.
"Remember you're getting the bursaries out of co-operative society that values the principle of good work ethic, honesty, integrity, responsibility for self, volunteerism and the brotherhood of man…" Rohan Stowe, GECCU's newly appointed CEO told recipients of the $3000 bursaries.
He said these values should be the foundation upon which bursary recipients build both academic and professional lives.
Stowe added: "they will drive you, not only to continue producing the results that you have in your education but it will also ensure that you are successful and productive citizens and good human beings".
In his address, the CEO noted several ways in which GECCU contributes to the growth and development of St Vincent and the Grenadines.
He also said that to date, the credit union has spent close to $1 million in support of scholarships and bursary programmes.
Using a quote from philanthropist, Warren Buffett; "someone is sitting in the shade today because someone planted a tree long ago", Stowe told bursary recipients to continue to excel "but don't forget to pay it forward…that is important".
This year's recipients are pursuing degrees at the Bachelors and Masters level in various disciplines including Banking and Finance, Special Needs education, Early Childhood education, Psychology and Data Science.
"Your success today is aptly juxtaposed against the unprecedented challenges that you might have been experiencing personally or collectively, like the rest of us due to the onset of the global pandemic, COVID-19 that has created far reaching economic, financial and social upheavals locally, regionally and internationally. Despite this, you have done well and deserve to be commended for your effort thus far," Harold Lewis, president of GECCU told bursary recipients.
Lewis said that the financial institution has heightened its recognition of the continuous critical role it plays as "the leading credit union in St Vincent and the Grenadines".
He added that it continues to uphold its mandate of helping people through efforts like the bursary programme and said it represents a visible demonstration of the credit union's social, corporate and ethical responsibilities.
Other speakers at this week's event included Ronnie Daniel, the chairman of the GECCU Scholarship Committee; Deborah Dalrymple, head of the UWI Open Campus; and Dixton Findlay, deputy chief education officer.