Posted on
This election is about a lot of fundamental issues – Camillo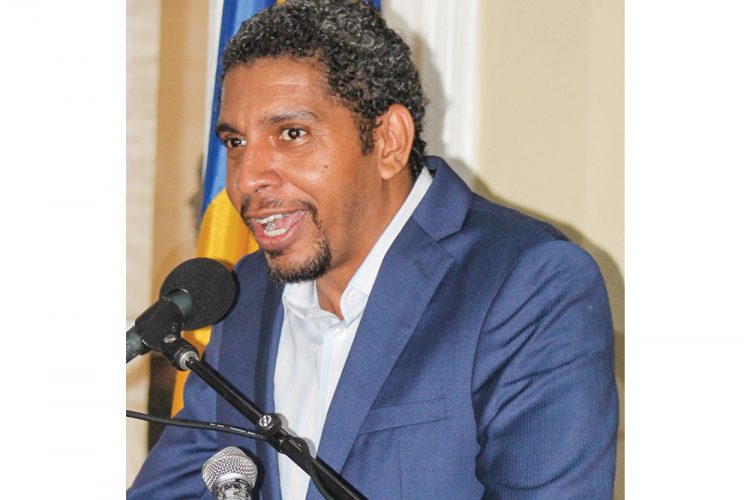 MINISTER OF Finance Camillo Gonsalves says the government's Promoting Youth Micro Enterprises (PRYME) programme which was introduced earlier this year, has so far helped over 800 entrepreneurs and small businesses.
Gonsalves, the Unity Labour Party's (ULP) candidate for East St George opined that the upcoming general elections is about issues of this nature; the government's initiatives and plans, most of which are opposed by the New Democratic Party (NDP) for no real reasons.
"I am going to tell you that this election is about a lot of fundamental issues. It is about a young man near the Calliaqua Town Hall, who dreamt of being a chef, but couldn't round up the money to get started.
"Today, thanks to PRYME, he has a stove, a fridge, pots and pans, utensils, and he is serving some of the best ital around," said Gonsalves.
He noted that some persons in the NDP call PRYME reckless, while others promote it and distribute flyers.
"I saw a picture of a recent NDP youth meeting, and played a fun game with myself counting how many of the people in their yellow shirts had applied for and received PRYME grants in recent months," Gonsalves said.
"It (PRYME) is about the young woman in Brighton sewing clothes on a dilapidated old machine in her home to earn some extra money, who now has a new sewing machine, materials, and a new energy about utilizing her talent and skill.
"It is about the business partners in Glen, who launched their Hair Salon and Barber Shop with a PRYME Grant to buy barber chairs, shampoo chairs, along with the necessary implements and supplies," Gonsalves said.
Gonsalves said that persons voting in the election should look at the positives that have come under ULP.
"This election is about the tennis prodigy from Fairhall and the football phenom from Calliaqua, both attending university and developing their talents in the United States thanks to Government assistance. It is about record numbers of university scholarships, record levels of Community College and UWI enrollment, and record numbers taking advantage of YES and SET internships," Gonsalves said.
He added that the election is about a COVID pandemic that brought the entire world to a standstill, and is causing economies across the globe to grind to a halt, "while the ULP keeps us safe, keeps us open, keeps the economy afloat, and directly touches over 15,000 Vincentians with income support, from hospitality workers to minibus operators to cruise ship workers to vendors to hand card operators to vulnerable citizens."
Gonsalves noted that last week, the first 2,358 farmers received their initial drought and COVID support payments of $500 each for a total of $1.2 million while an additional 1,600 will receive their first payment in the coming days.
"This election is about so much more. Who has a plan to make AIA work and attract more hotels and jobs to SVG? Who has a plan to expand the fisheries sector and employ more fisher folk? Who has a plan to further develop our call centres to employ hundreds more young people? Who has the plans to develop a modern port and a modern referral hospital? Who has a credible plan to combat climate change?" Gonsalves question.
He noted that the ULP has a plan to make SVG a credible, respected and an influential voice on the global stage while the party is about taking principled stands on a host of crucial issues, from reparatory justice to non-interference in sovereign affairs, to whether we have the right to pretend that 24 million people in Taiwan do not exist.
"On all these issues, and more, it is clear that the party of choice, the party of principle and the party of plans is the Unity Labour Party," Gonsalves stressed during a virtual meeting last week.
The finance minister said that throughout the course of the election campaign, he will address the issues in detail.
Gonsalves said that because of COVID-19, most of the campaigning has to proceed under unique circumstances and constraints and he misses the energy of the massive crowds that traditionally attend ULP events.
"Even more, I miss the love and warmth that we share in each other's company. But these are special times," Gonsalves said.