Posted on
ULP has a record of success -Camillo Gonsalves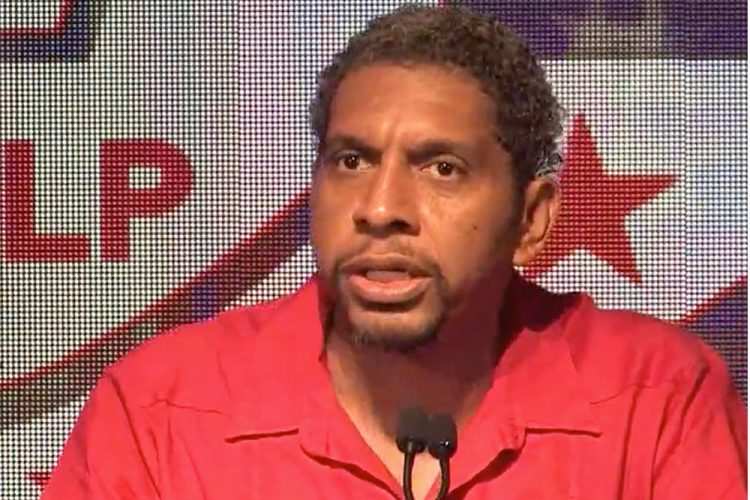 THE Unity Labour Party (ULP) has actual, detailed, implementable plans and a record of bringing these plans to fruition unlike the New Democratic Party (NDP) whose plans are to sell Vincentian passports and switch diplomatic relations from Taiwan to China.
That is the view of Camillo Gonsalves, Minister of Finance and parliamentary representative for East St George, who speaking during a virtual meeting said the ULP has plans for the Argyle International Airport (AIA), plans for the creation of new hotels and a plan to improve the competitiveness and efficiency of the country through the construction of a modern port among many other ideas.
Gonsalves said that in his opinion, the NDP is now silent on the hospital issue but last election, "they debuted their infamous Farmville design, and told us that they were going to build a new hospital. They even told us that it would be built in East Saint George.
"But, according to reports, the NDP candidate for East Saint George this time around detailed her plans for the constituency, and nowhere was the issue of a major hospital mentioned. Oh, she talked about upgrading existing clinics. But somehow, the major issue of the East Saint George hospital has fallen quietly by the wayside," Gonsalves said.
He said that it seems as if the NDP has abandoned, or relocated its supposedly firm and well thought out hospital plans.
"Maybe they were going to build it on the land now occupied by the Royal Mills Hotel, or the Rainforest
Seafood Processing Centre, or the Choppins Hard Court, or the Brighton Football Facility, or the Temporary Parliament and Student Hostel.
"Or maybe it is just part of the usual chaotic policy raffle that they play with you. Austerity this week, no mention of austerity the next. Dolphin Prison this week, 'oops, not my idea' the next. Switching to China this week, 'we'll think about it next week'. Lock them out for COVID this week, let them in the next. Yellow Army this week, all white party the next," Gonsalves said. The finance minister said that even with the Promoting Youth Micro Enterprises (PRYME) programme that has already benefitted over 800 entrepreneurs and small businesses this year alone, the NDP is conflicted and confused.
"Some of their candidates call it reckless, while others promote it and distribute flyers. I saw a picture of a recent NDP youth meeting, and played a fun game with myself counting how many of the people in their yellow shirts had applied for and received PRYME grants in recent months," Gonsalves noted.
He stressed that the ULP are grounded by a shared philosophy and common vision with one leader.
"So our policies and their positive outcomes are clear, consistent and beneficial," Gonsalves said.