Posted on
Your passport and rights as a citizen are on the line for this election – Gonsalves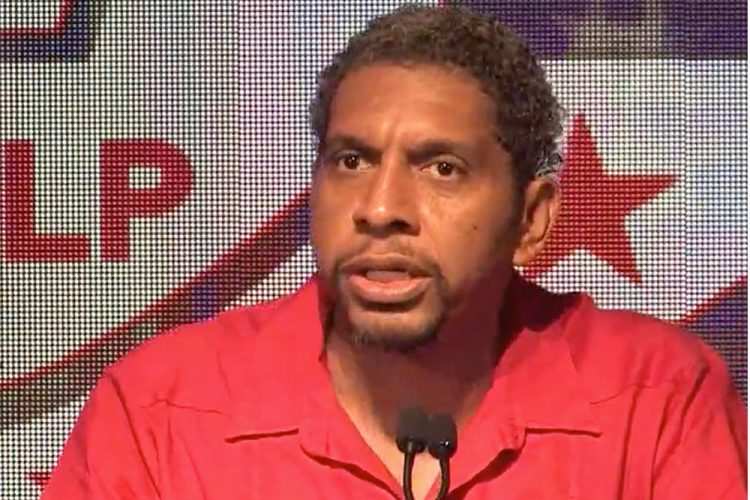 The upcoming general elections are about many things, including stopping the New Democratic Party (NDP) from taking the country down the path of Citizen by Investment (CBI).
So said Camillo Gonsalves, the finance minister and the parliamentary representative for East St George as he addressed a virtual meeting on Wednesday.
"This election is about so much more. Who has a plan to make the AIA work and attract more hotels and jobs? Who has a plan to expand the fisheries sector and employ more fisherfolk? Who has a plan to further develop our call centers and employ hundreds more young people…," Gonsalves commented.
"This election is about your passports and what it means to be a citizen of SVG…," he further noted while stressing that a Vincentian's passport is more than a collection of pages and some ink.
The NDP has repeatedly said that they will create a CBI program in St Vincent and the Grenadines (SVG) and use the money to fund national programs and projects once they get into power.
But Gonsalves said on Wednesday that a passport must never become a commodity for sale.
"I don't have to list all the international criminals, fugitives and terrorists that have been captured around the world carrying other islands passports," Gonsalves said, adding that he could easily speak about corruption surrounding passports schemes around the world.
"I certainly hope that I don't have to remind you of the fact that multiple NDP campaigns, from their cynical 'Vote No' campaign to the last three election campaigns have been bought and paid for by foreigners who have been promised the profits of your bartered birth right," Gonsalves said.
He said the NDP, when talking about CBI, usually leaves out a number of issues.
"It is a lazy, unimaginative and baseless mantra masquerading as a plan," Gonsalves said while noting that the policy ignores a few truths.
"When they tell you passport selling turns islands into debt free paradises, they neglect to tell you that some passports sellers are having trouble paying salaries right now," Gonsalves said.
He said that several islands with CBI have on several occasions been unable to meet their monthly obligations and are incurring more debt and floating more bonds than SVG while borrowing at less favorable rates.
Gonsalves noted also that some CBI countries have had to go to the International Monetary Fund (IMF) to request economic bailouts and SVG has never done that.
He noted also that despite CBI, countries owe millions of dollars to the University of the West Indies (UWI), their National Insurance Services (NIS) and local banks.
"In our region, multiple banks have refused to touch passport money, terminating CBI ties and dropping passport business from their portfolio," Gonsalves said while noting that the Economic Commission for Latin America and the Caribbean (ECLAC) says passport selling contributes to a country's reputational risk that can damage corresponding banking relationships.
"It means trouble moving money in and out of your country. It means trouble getting Western Union and Money Gram. It means trouble attracting reputable foreign direct investment," Gonsalves pointed out.
Gonsalves noted also that the Eastern Caribbean Central Bank (ECCB), the IMF, European Union (EU) and the OECD have all expressed concerns about CBI programs, with the IMF described CBI and its inflows as volatile, meaning that it is liable to change rapidly and unpredictably especially for the worse.
He said that European Union (EU) and the OECD are tightening the screws on passport selling programs and they have already said they would attack it as a vehicle of tax avoidance and criminality.
The finance minister noted that the ULP has plans and projects aimed at hospital upgrade, combating climate change and making SVG a credible and respected voice on the global stage, taking principled stances on issues like reparatory justice and the inclusion of Taiwan on world bodies.
He added also that the government is showing what it is about with programs like PRYME that has helped many persons recognize their dreams and upgrade their businesses.
"This nation called St Vincent and the Grenadines is not simply a collection of rocks and cays, it is not just trees or rivers or mountains or beaches. This nation is our shared history of struggles and triumphs.
"This nation is our shared culture, from what we eat to how we talk…citizenship is the highest honour in our land and it is an honor that is not for sale…"Gonsalves said.