Posted on
VINSAVE pre-schoolers get lesson on dental care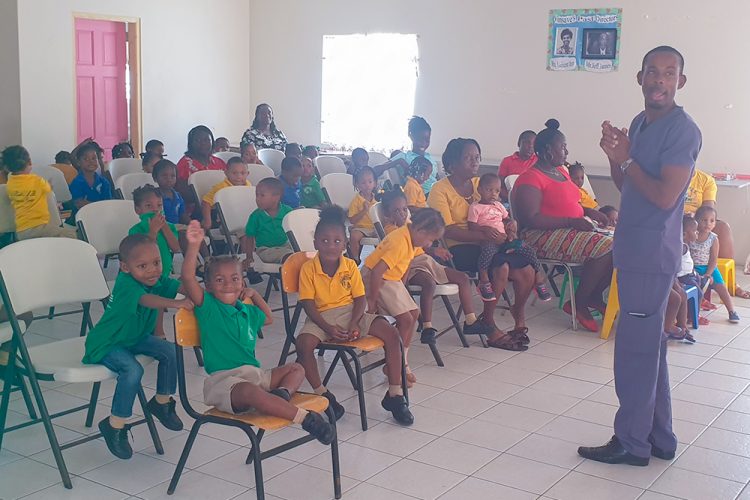 Pre-school students at the SVG Save the Children Fund (VINSAVE) Pre-School this Tuesday got a lesson in dental care and hygiene compliments the Public Dental Services.
The interactive lesson, conducted by Dr Brendon Richards, Senior Dental Surgeon at the Public Dental Services, was held at VINSAVE's compound in Richmond Hill and was part of Dental Health Week which ran from September 21 to 25.
Executive Director at VINSAVE Janice Fraser explained to SEARCHLIGHT on Tuesday that during one of the school's programs, the students were taught about the senses.
The lesson included information about the mouth and teeth, so to enhance the program they called the senior dental surgeon.
She said the session, which included over 50 children, went well.
"The children were alert and responsive and they have learnt and would take that to their homes," said Fraser.
Commenting, Richards said that this year, because of COVID-19, Dental Health Week, which would normally see his team going to various primary schools, took on a new approach.
He said they designed the program as more of a media outreach initiative instead of a full face-to-face interaction with students.
Richards said they however decided to interact with the children at VINSAVE in person in order to, "at least touch base with one of the schools so we can have that one and one interaction in the effort to get the message of prevention through education across."
Dental Health Week saw dental professionals being interviewed on We FM, Xtreme Radio, Star FM and NBC Radio among other media outlets.
There are nine dental clinics in St Vincent and the Grenadines from Chateaubelair in North Leeward to Georgetown in North Central Windward and on Bequia, and each clinic is responsible for school outreach in their area on a weekly basis.
"We have had challenges with the number of dental personnel available and this year, because of COVID-19 we shelved the dental health education program which would be conducted weekly that would educate children in primary school…that has not been possible," Richards said.
The session at VINSAVE saw students taking home toothbrushes and toothpaste compliments the Public Dental Services.