Posted on
TCCU awards bursaries to members pursing higher education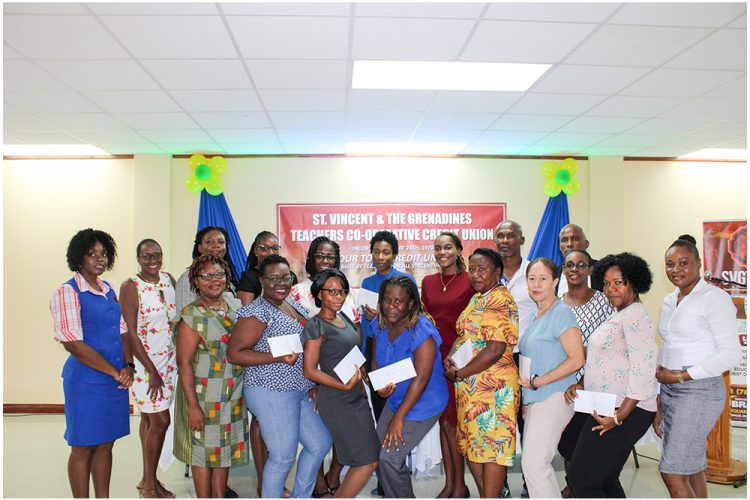 The Teachers Co-Operative Credit Union Ltd (TCCU) this Tuesday awarded a total of 16 bursaries, all together valued at $42,700, to members pursuing higher education.
The handover of these bursaries took place at a ceremony held at the credit union headquarters in Paul's Avenue, which was regulated by temperature checks, and social distancing.
Speaking on behalf of the 16 recipients, Racquel Peniston said that they are overwhelmed by the love and support of the TCCU. "We would like to thank you a million. This is a blessing from God," she told them.
Peniston disclosed that the financial assistance, "allows us to focus more on our academics rather than how we will be able to make our payments, making our dream become a reality."
She commended the credit union for, during the hard economic times caused by Covid-19, finding "some way to assist its members."
Wendy Bynoe of the Selection Committee told recipients that the credit union is aware of the great cost of pursuing higher education, and how much their financial aid is "timely in these tough economic times."
"This bursary award recognizes more than academic performance, it also recognizes the resilience of members who are studying and continue to overcome challenges they faced and do well in their studies," the representative explained.
The 16 awardees were selected from 25 applicants, through an interview process touching on the studies that they are pursuing, their needs, and how their studies can enhance the development of St Vincent and the Grenadines (SVG). Bynoe said that the award was a testament to their hard work over the past year, and the support of those who nurtured and guided them on their journey.
The award of bursaries by the TCCU to "deserving" members from "all walks of life" has been ongoing for over 16 years, Bynoe commented, in a tradition upheld by the credit union's belief that education is key to a bright future.
Additionally, the belief that "access to education should be available to everyone regardless of their social background.
"We believe that it is not where you come from but how you move forward (especially through education) that plays an important role in paving the way to success," Bynoe noted.
She indicated that the credit union's wish is for the bursaries to brighten the pathway ahead of them, and she encouraged them to persevere despite challenges. Deputy Chief Education Officer, Dixton Findlay, commented, as did Bynoe before him, that "an investment in education is very expensive, but it is one of the best investments that you can make because you can lose your house, you can lose all your riches, but you will never lose that investment in education."
However, he advised the 16 to share their knowledge, and that they shouldn't get a degree simply for the sake of getting a degree. It shouldn't be the case that they use their degree simply to be an authority, Findlay noted.
"Your education should be used to change society. You should use your education to help others to ensure that your investment is an investment not only for St Vincent and the Grenadines but for the entire world."
The recipients of the bursaries are: Zaviann Antoine, Leonore Bonadie, Francis Billingy, Shameka Duncan, Andrea Durrant, Paula Paul-Hackshaw, Tonisia Haynes, Damaris Maloney, Zerry Anesta Morgan, Kezian Patrick, Racquel Penistion, Godfrey Harry, Sophia Henry, Tera Samuel, Ann-Marie Francis-Thomas, and Janille Sandy.