Posted on
Browne confident of a landslide victory in East Kingstown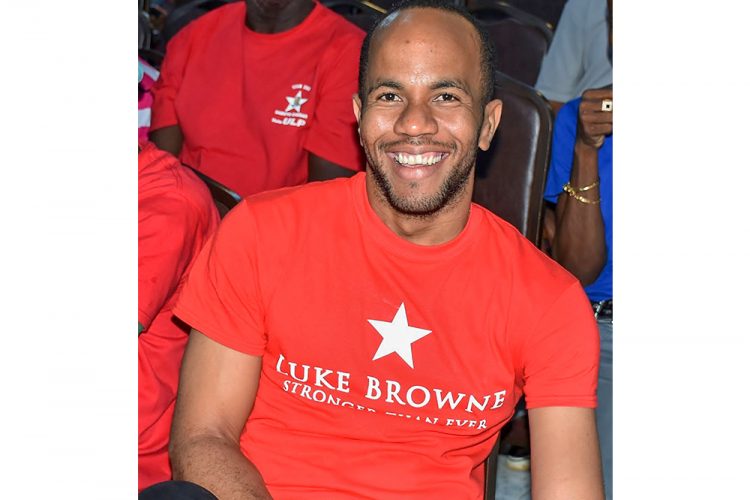 Unity Labour Party (ULP) candidate, Luke Browne is confident that he will have a landslide victory in East Kingstown in the upcoming General Elections.
The ULP East Kingstown headquarters launch took place on September 19 with a barbecue during the day and rally in the evening.
Browne, who has been the ULP's candidate for the constituency for the past two terms, said it was time to bring East Kingstown into the fold of Labour.
"We are ready to complete a job that we started in 2010. In 2010, we went down by 467 votes. We moved in 2015 to a margin of only 149. So, you see that we moving in the right direction," he said.
Browne said a lot of progress has been made in the constituency, which has also been acknowledged by Prime Minister Dr Ralph Gonsalves.
The ULP candidate encouraged everyone to ensure that they are registered to vote in the upcoming elections and to know where they should vote.
"We ain't going in 2020 to settle for any narrow escape and we ain't, in 2020 going to put up with a small victory.
This victory in 2020, for the people of East Kingstown, is going to be a landslide victory…it ain't going to be photo finish," he said.
Browne said it is his party's promise to "Lift SVG higher" and continue to deliver jobs, better roads and invest in health and education.
Rene Baptiste, former Member of Parliament for West Kingstown also made an appearance at last Saturday's rally to endorse Browne.
The former Government minister said the East Kingstown candidate has done a wonderful job as this country's minister of health.
And she proffered that should he become East Kingstown's parliamentary representative, things in the constituency will get better.
"Comrades, you have to try somebody. Haven't you tried him enough? Hasn't he done enough? Hasn't he shown you his colours? Hasn't he shown you that he is red and ready? Are you ready for Luke this time?," Baptiste said. "The thing that does win election is votes. We jump up and wave we flag, we say we red and ready, we say we this and that.
Election day, machinery must roll out smooth and when it roll out, you must roll him into office this time."
She encouraged voters not to take anything for granted. She added that the upcoming election signalled a new generation for the ULP and that new generation is inclusive of Browne.
Tamira Browne, Luke's sister, chaired last Saturday evening's rally.
Like Baptiste, she said her brother has not only made a difference at the helm of the ministry of health, but also as the candidate for East Kingstown.
According to Tamira, Browne has created at least 200 job placements in the last five years; turned a dumping ground in Roseau into a recreational park; supported artistes from the constituency; improved Sion Hill Bay and impacted the lives of 2000 children registered in Luke's Kids Club.
Saboto Caesar, the Member of Parliament for South Central Windward, and Browne's brother-in-law was also present to publicly throw his support behind the East Kingstown candidate.
"Luke Browne is a man who is dedicated to the people and if you have had the opportunity to work with Luke Browne, even if it is for one day, all he is talking about is the people of East Kingstown," Caesar said.
Caesar, this country's agriculture minister said Browne is a man who has the energy, perseverance and will "to be the best representative for East Kingstown that we have ever seen in the history of this country".