Posted on
St Martin's past students honour 'Miss Ferdie'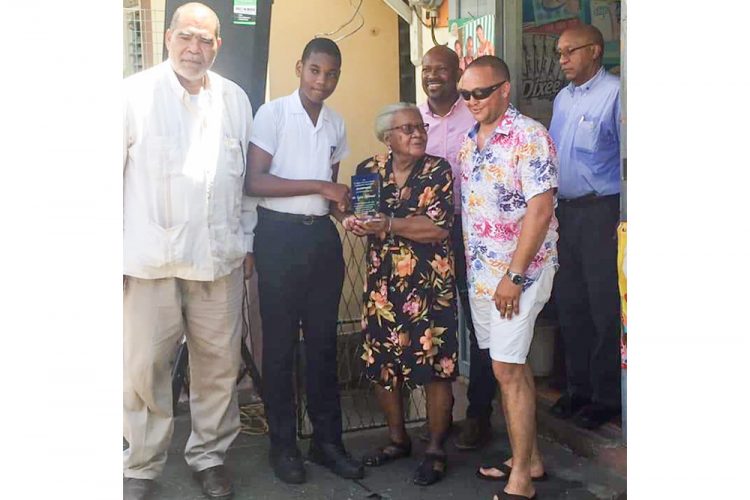 For the better part of her 90 years, Sylvia Ferdinand, or 'Miss Ferdie', has been a mother figure to the students and past students of the St Martin's Secondary School (SMSS).
As the owner of Ferdinand's Grocery in Paul's Avenue, the SMSS students have frequented her establishment for their daily nourishment over the decades, even when they didn't have the money to pay her.
Some of these students revealed the extent of the impact that 'Miss Ferdie' has had on their lives, speaking during a ceremony to honour her, which was held last Friday, September 18, just outside of her grocery.
At the end of the ceremony, the St Martin's Secondary School Past Student's Association (SAMPASA) gifted Ferdinand a plaque "in recognition of her compassion, generosity and selflessness shown to generations of St Martin's Secondary School students."
Past student Donnie Collins experienced first-hand, the generosity and caring attributes of the proprietor.
"I will tell you this. It was an amazing thing that an established business will extend credit to a 12-year-old. It was an amazing thing," Collins, a radio host, stated.
He reminisced that when he attended school he was given two dollars every day to spend.
"..Them fellas from Paul's Avenue would say man don't worry – Don't worry about that, I know a place," Collins said, before leading him to "Miss Ferdie's" shop.
"Fifty cents for a man-sized glass of mauby and a good-sized bread with cheese, so there's my one dollar. And I was given break…Your belly full, and you was comfortable going back to that classroom," he commented.
"Even when you didn't have the dollar, and you miss a few days because you don't have the dollar, when you go back the next day she say 'where were you?'," he recalled. To which Collins would explain that he didn't have the money, but Ferdinand would assure him, "Don't let that stop you. Come, if you don't have it, I will give it to you and when you find the money. Bring it."
"There were days I will eat break and lunch without a dollar being handed to this lovely soul," the radio host said, declaring that because of her he didn't go hungry when he was at school.
He also noted that it went further than just meals, recalling that she would chastise him if he looked untidy, reminding him that St Martin's boys were gentlemen, and therefore nurturing them in this way.
Past student Martin LaBorde noted that he was employed by 'Miss Ferdie' from 1970 to 1972, on Friday evenings after school and for the entire Saturday. With his wages, $2.50, which was significant at the time, LaBorde gifted his mother half of this, and kept half.
Because of this, "I was able to use 25c every day because snow cone was 10c so as long as I could buy a snow cone I was good," he remembered.
LaBorde relayed that he learnt much about business from Ferdinand. "I learned how to count properly because of Miss Ferdinand. She will outpace calculators, I'm telling you," he commented.
"But I think the most important thing for me was the glass of mauby and two bread and sausage on Saturdays for my lunch," he noted.
"We couldn't buy sausage…so when Miss Ferdie give me two bread and sausage and a glass of Mauby, I in heaven. That's how it felt."
For the two years that he worked under Ferdinand it, "made a significant impact on my life and it's part of the foundation, in terms of who and what I am today. I will forever be grateful to Miss Ferdinand for the things that she instilled in me."
Vice President of SAMPASA Ricardo Adams reflected on the "institution" that is 'Miss Ferdie'.
President, Ronnie Daniel, noted that honouring Ferdinand was something that they decided they needed to do right away. "If we look around our society, our communities, we don't do a good job, in my view, of honouring and 'bigging up' and celebrating the generations before us, and especially persons who do it quietly, like Ms Ferdinand," Daniel stated.
The SMSS will be celebrating its 60th anniversary next year.
Past student and Minister of Agriculture, Saboto Caesar, as did the others, thanked Ferdinand, stating "the parents who send their children to St Martin's Secondary School, they are not here today to tell you thanks – but they are sending a resounding thank you and lots of love to you for the work over the decades."
"You shared the love in your heart that you have for your children with us. We are not your biological children but we accept the adoption over the years," he said.
"Miss Ferdie"'s second son, Dr Jules Ferdinand, admitted that over the years she has been a mother to not only her children but to so many.
"Mommy is an exceptional person. She has never been driven by material wealth, she has always had a soft spot for people, especially the disadvantaged," he revealed.
He disclosed that when asked once by a student why she would give away bread and sausage, and mauby to a child who couldn't pay, his mother replied "maybe you never knew what it was like to be hungry but I will not let a hungry child go to school if I could help it."
"…Material possessions, it was never her thing, if that was the case this property could be a lot bigger," her second son remarked, gesturing to the grocery which has gone through three stages, the first being in the 1950s. "She was more concerned about investing in people," he added.
He recalled that she was a businesswoman of integrity. As an example of this, he recalled that when he helped her as a child to stack the shelves, if an item moved up in price, her rule was "you don't put up the label for the new price until all of the old ones were sold."
Her son pointed out to her that this meant she would lose money, and that the tins would look the same, no one would know the difference if the tins were sold at the more expensive price.
"She said but you know the difference, and God know the difference, and you will not do it that way," her son disclosed.
He concluded that this is what his mother holds out for, honesty, decency and caring for others.