Posted on
PM Gonsalves confident of Scotland's re-election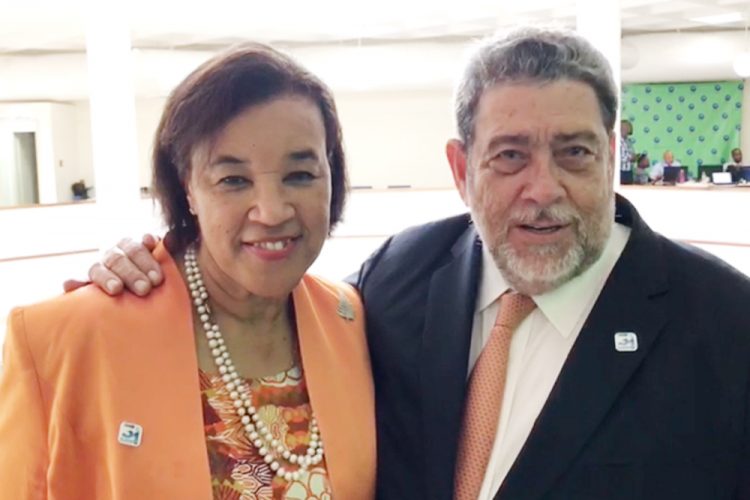 Prime Minister Dr Ralph Gonsalves says he is confident that Baroness Patricia Scotland, the Secretary General of the Commonwealth will be re-elected, come June.
Scotland, who was born in Dominica, has come under pressure to resign amidst accusations of incompetence and cronyism.
International media reported in early February that Boris Johnson, the United Kingdom's prime minister suspended Britain's £4.7million annual grant to the Commonwealth Secretariat.
According to The Telegraph, Scotland's automatic re-election was blocked after Boris Johnson canvassed fellow heads of state, and he has been warned that the money will be withheld until the organisation improves its financial procedures. 
"St Vincent and the Grenadines and the rest of the Caribbean Community, overwhelmingly support Baroness Scotland to continue as the secretary general of the Commonwealth," Gonsalves said in a video obtained by SEARCHLIGHT.
In the video, the prime minister is standing with Scotland, who was present at the 31st Inter-sessional Meeting of the Conference of Heads of Government of the Caribbean Community (CARICOM) held in Barbados on February 18 and 19.
Gonsalves expressed thoughts "that the attempts to hound her out are entirely unacceptable" and he said that those who are doing so should stop.
The Baroness is the sixth secretary general and the first woman to fill the role.
It is said that the UK's decision, as the largest contributor to the Commonwealth, to withhold funds, could risk plunging it into financial difficulty, months before Commonwealth leaders are set to meet and decide on its future figurehead.
The Vincentian Prime Minister, in the video said "I look forward very much to the Commonwealth heads of government meeting in Kigali in June where I'm very confident that she will be re-elected to serve as Secretary General of Commonwealth for a second term".