Posted on
Education officials commend US Peace Corps primary school literacy project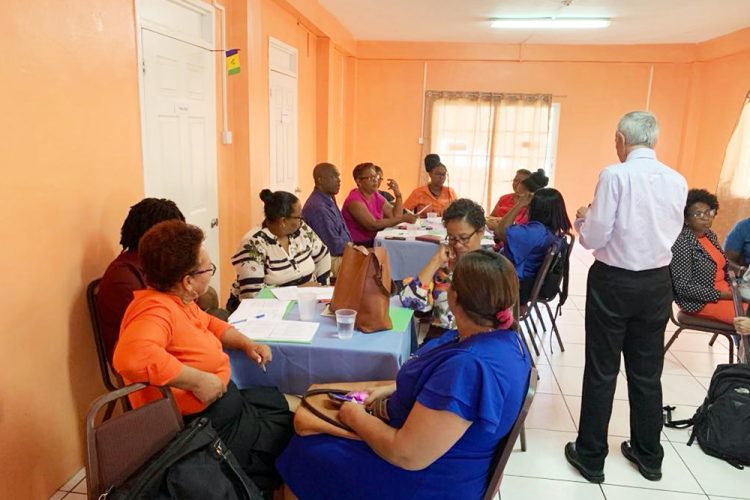 Ministry of Education officials on Thursday commended a Peace Corps primary school literacy project that is coming to an end and expressed strong support for another one to be developed.
"The Primary English Literacy Project has been quite effective through the years," said Aldia Gumbs-Dyers, a Senior Education Officer. She was speaking at a meeting organized by the Peace Corps Eastern Caribbean Program supported by the Government of the United States. The meeting reviewed the progress made by the project in the last five years and began discussions on developing a follow-on project. Gumbs-Dyers added, "Today is proof that we are committed to its success and continual improvement."
In addition to senior staff from the Ministry of Education, meeting participants included principals, teachers, Peace Corps Volunteers and Peace Corps staff, including the senior Peace Corps staff member in St Vincent, Cuthbert James, and the Peace Corps Eastern Caribbean Director of Programming and Training, Patrick Triano, who is based in St Lucia. Triano gave a presentation on the progress achieved in the last five years and then sought feedback that will be used to develop an even more effective second phase. "I am heartened by the commitment of the stakeholders," he said.
"The insights offered at the meeting will go a long way to developing an even stronger new project."
The goals of the project include improving student literacy levels in grades one through three, introducing new literacy instructional methods to teachers, and improving school, family and community partnerships in support of literacy. The project is a collaborative effort of Peace Corps, the Ministry of Education, USAID, and OECS. The project also has been working in Grenada, St Lucia and Dominica.
The Senior Education Officer noted that Peace Corps presence in St Vincent and the Grenadines has historically been very positive. She recalled that as a young girl she benefited from the presence of a Volunteer in her community. Addressing the Volunteers present, she said, "Let me say that you may never know the extent or depth to which you touch the lives of others. But it is wonderful work you are doing."
In the Eastern Caribbean Peace Corps has been present since its inception in 1961. The goals of Peace Corps focus on supporting development and promoting intercultural understanding and friendship between Americans and the people of the countries where Volunteers serve. There are currently 20 volunteers living and working in St Vincent and the Grenadines.