Posted on
Eleven students awarded with scholarships and bursaries from the ECGC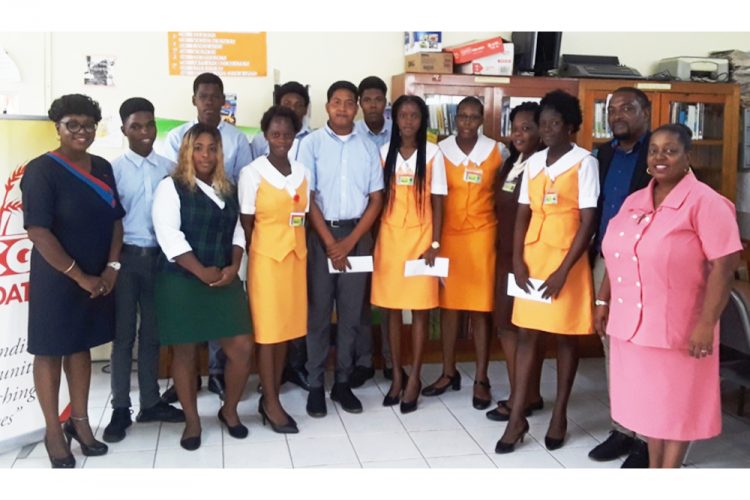 Eleven students from three of the divisions of the St Vincent and the Grenadines Community College (SVGCC) have been awarded scholarships and bursaries from the ECGC Foundation.
On November 6, the Foundation awarded eight students of the SVGCC Division of Technical and Vocational Education with EC$1500 each to cover registration and programme fees for their two-year programmes. This year, in recognition of the 40th anniversary of Independence, the Foundation has awarded three additional students with a bursary valued at EC$1000 each.
These students are from of the Division of Teacher Education and the Division of Arts Science and General Studies. The awardees are Junell Campbell, Markel Forde, Sameisha Hoyte, Davion Lavia, Shanique Keir, Anwon Dells, Kiara Layne, Josiah Samuel and Darika Edwards from the SVGCC-DTVE; whilst Sabrina Brereton and Lanique O'Garro are from the Division of Teacher Education and the Division of Arts Science and General Studies respectively. They are all first year students pursuing Certificate and Applied Associate Degree programmes in Agricultural Science and Entrepreneurship, Business Studies: Sales and Marketing, Electrical Engineering Technology, Early Childhood Education, Fine Arts, Design and Cultural Communication.
The East Caribbean Group of Companies (ECGC) Human Resource Manager Phyllis James was present at the award ceremony during which a cheque of EC$11,000.00 (first year fees) was handed over to Osborne Bowens, Dean of the Division of Technical and Vocational Education. James, referencing to the motto of the ECGC Foundation Inc. "Expanding Opportunities Enriching Lives" encouraged students to preserve and excel in their studies, not to procrastinate with the opportunity that has been provided, as they are the ones that determine success in achieving their educational goal.
This is the fourth group of scholarship recipients of the ECGC Foundation. The Foundation has contributed approximately EC$60,000.00 since its inception in 2016 to the development of students.
The SVGCC remains grateful to the ECGC Foundation Inc. for their continued partnership and investment in student development and vocational education.