Posted on
Lawyer urged to never lose the passion shining in her voice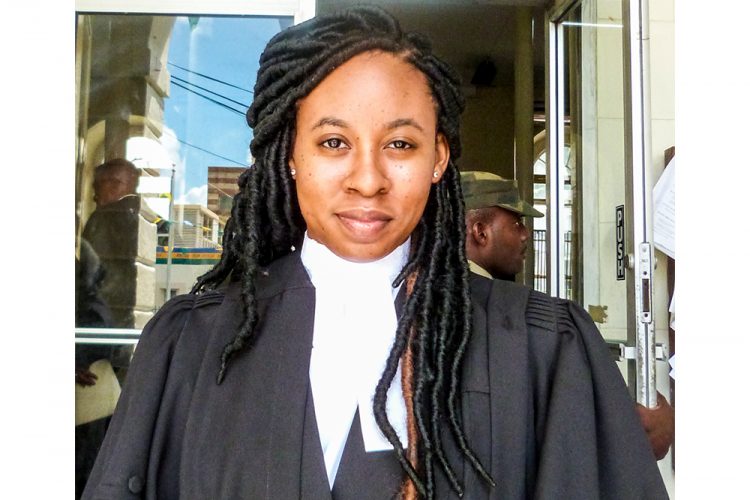 On November 1, 23-year-old Barbadian Juanna Bovell became the youngest that Justice Brian Cottle has ever admitted to practice at the Bar of St Vincent and the Grenadines.
The judge, who spoke while presiding at the High Court, indicated that he had noticed this after reading her application, but stated that this is not apparent in the way the young lady carries herself.
He told Bovell that she has a good future ahead of her, "if you maintain the attitude that you've so far displayed." He advised, "Never lose the passion that I hear shining in your voice as you address the court."
"I look forward to seeing you representing your clients with that same fire that you displayed here today," Cottle stated.
Just moments before Bovell had confidently addressed the court in her maiden speech in a composed manner.
"When you work for something for so long and so hard, unfortunately all you may come to see is work. Momentous occasions such as this pass away into nothing more than transit stops, your destination already five stops out," Bovell told the court. She commented that a new journey has begun for her.
"I stand before you a Barbadian, yes, but I feel very much at home… coming today with nothing more than what I am. All I am is a culmination of hard work, and indeed experiences of others," the young attorney stated.
Bovell explained that St Vincent and the Grenadines has restored her faith in people, and has done a lot more than show her a home.
"I was not built by those who were distinguished, by profession, by riches or luxury or privilege. I was built by those who were distinguished by their good works. Their constant mentality of service before self," the 23-year-old explained.
"I was built by those who always demanded of me – never you, always the others, never you, always your purpose," she continued.
Among those she recognized as integral to her journey, were her parents, her grandmothers, her new found Vincentian family, the counsel that supported her, and her mentor Gloria Haynes.
Bovell was supported in her petition to be admitted to the SVG Bar as a Barrister and Solicitor, by counsel Julian Jack, who commented that her addition speaks well to Caribbean intergration.
Jack commented that in his interactions with Bovell he's always been impressed with her intellect in seeking to understand the law, question the law and learn how to apply it. Her search for an understanding of justice is very robust and vigorous, Jack informed.
Counsel Cecil Blazer Williams also considered Bovell to be an asset. He said he believed "Ms Bovell has the potential to be, maybe, a future Caribbean Prime Minister, because I've noted that she was a member of the Barbados National Youth Parliament, and was also named best Orator for the Opposition," he commented.
Williams also stated that Bovell's work at the Attorney General's chambers of Barbados indicates that she, "has the kind of background, the kind of potential, to relate to her clients, to relate to those with whom she comes into contact in a way that would secure her as someone who understands the society."