Posted on
Venezuela Film Festival in SVG begins on Monday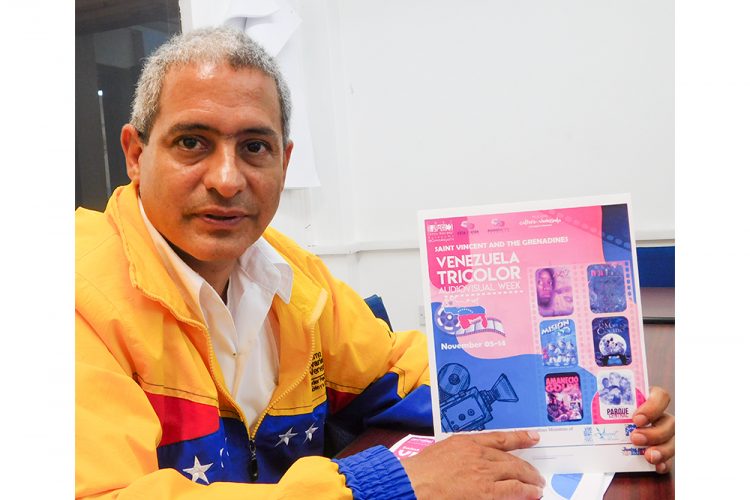 A new documentary called 'Haiti, the Hidden face' will be premiered at the upcoming Venezuela Film Festival in St Vincent and the Grenadines.
The event, which is dubbed 'See who we are' is being held for the second time locally and will run from November 4 to November 14.
"We call the festival 'See who we are' because its an opportunity to show who the people of Venezuela are…the idea of the festival is to present the production of Venezuelan film makers," Francisco M Perez Santana, the head of mission at the Embassy of the Bolivarian Republic of Venezuela said in an interview this week.
Six films will be shown over the course of two weeks at different locations across St Vincent, including primary and secondary schools and prisons.
The ambassador said that while all films are in Spanish, they also include English subtitles. And the event is free to the public.
One of the major films being shown at this year's festival is a documentary on Haiti, which Santana said was completed this year.
"Haiti is a documentary…that show the real life of Haiti. The corporate media shows Haiti as a country that just has slaves and protests all the time, that its very poor," he said. "This documentary shows another kind of Haiti, another view…"
The head of mission also noted that the film is also interesting because it was filmed by one producer who went to the country by himself and travelled around on a motorbike while using one camera to film the entire documentary.
Also included are Venezuelan films with messages related to current world issues.
One such film is 'H2O Mission', an animated film which aims to promote the care of planet earth through the conscious use of water.
'Central Park' is another film featured at this year's festival and it brings together several stories of Venezuelan couples living everyday situations very common in Latin American and Caribbean societies.
Other films also include 'Azul', 'A Coup at Daybreak' and 'The Firefly and Blackberry'.
"I hope that…the people of St Vincent can receive with open arms, the film festival and they can enjoy our film festival," Santana said.
The first showing will take place at the Peace Memorial Hall this coming Tuesday for students from the St Vincent Grammar School, Thomas Saunders Secondary School, Girls' High School and the St Martin's Secondary School.
Showings for the general public will take place on November 13 at the Venezuelan Institute at 6 pm. A special showing for the public will also take place after the festival concludes, on November 23 at the Venezuelan Institute, beginning at 3pm.