Posted on
ECSC sentencing guidelines 2019 will help sensitize persons – Byer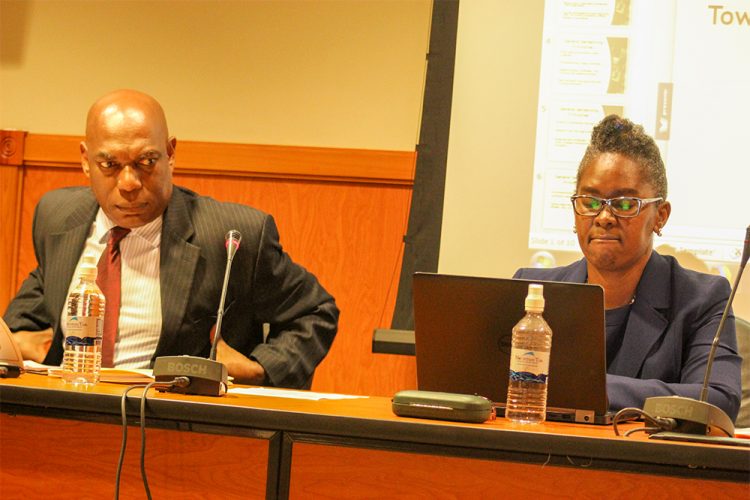 Justice Nicola Byer is hoping that the Eastern Caribbean Supreme Court (ECSC) sentencing guidelines 2019 will help sensitize persons on why certain sentences are handed down.
"These guidelines will assist in removing what I consider the veil that persons feel shrouds the great mystery of sentencing," Justice Byer told a gathering at the National Insurance Services (NIS) conference room last Friday.
Justice Byer was at the time delivering remarks at an ECSC initiative aimed at sensitizing persons, including lawyers and journalists, on how judges and magistrates arrive at certain sentences.
The session was carried out by Justice Esco Henry and Justice Brian Cottle and looked at topics like sentencing persons under the age of 18, suspended sentences, general sentencing principles and sentencing for sexual offences.
"I wish to state the guidelines, which will be launched this week, operate as a further chapter in the rich history of the court both as an innovator and leader in the region,, representing as it does the sub region of the CARICOM member states," Justice Byers said.
She said the guidelines are not only for persons who find themselves the recipient of sentences but the general public as well.
"As we all know they (general public) are our greatest critics. They never seem to understand exactly why someone has received a particular sentence for a particular transgression," Justice Byer commented.
Justice Byer is hoping that persons who look at the sentencing guidelines will walk away with a better understanding of how these guidelines assist the court and the administration of justice.
The new guidelines will be launched today, Tuesday, September 17, in Antigua and Barbuda.
According to Chief Justice Dame Janice Pereira, the intention of the sentencing guidelines is to achieve a more uniformed approach to sentencing practice, greater consistency in sentencing, transparency, and, in turn, greater public confidence in the administration of criminal justice.
The guidelines were formulated by the ECSC Sentencing Advisory Committee, which is jointly chaired by Justice Gertel Thom and Justice of Appeal Iain Morely, QC, under the direction of the Chief Justice.