Posted on
Grassroots Volleyball Programme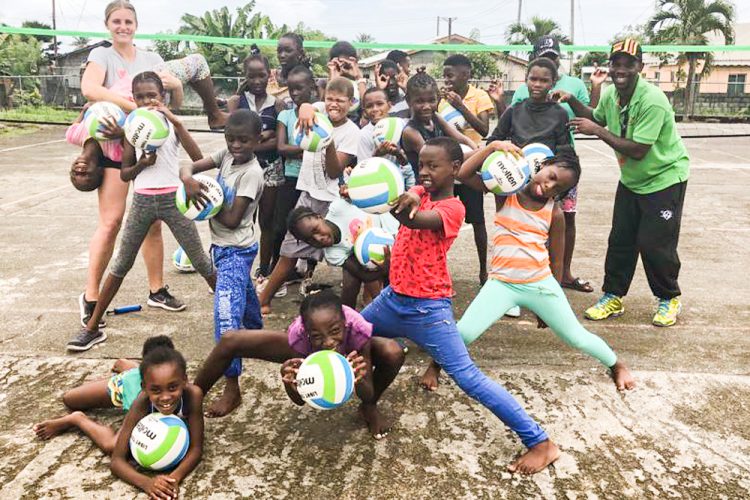 by Brooke Dunlap
Primary English Literacy is the main focus for Peace Corps Volunteers in the Eastern Caribbean where we work closely with teachers at the schools we've been assigned to. However, the Peace Corps also encourages us to find secondary projects to do as well. Heather Reed, a Peace Corps Volunteer at the Langley Park Government School in Georgetown is involved in a start-up volleyball team.
Heather's expectations for coming to St Vincent and the Grenadines were being able to move around the island easily, being able to go to the beach, making friends and being able to attend events.
Her expectations have changed in the past year of living on the island.
"I never expected to meet people who have impacted my life in such a strong and positive way. I never expected to be involved in a start-up volleyball program for primary school. On the other side of things, I didn't expect the sea blast to be so damaging to your home and the things inside of it. I also didn't expect to be living in a town that is over an hour away by van from Kingstown."
The Maryland native works with the St Vincent National Volleyball Association. She also coordinates with Marlon Williams, the technical director of the association, who created the Grassroots Volleyball Program.
"We are starting a grassroots volleyball program that will give children in primary schools the opportunity to learn the game of volleyball. The goal is to expose Vincentian children to volleyball at a young age in order to gain knowledge and interest in the sport before they reach Secondary School which is when volleyball competitions begin."
There are benefits to learning the sport. "Learning volleyball at a young age is a positive influence on a child's mind and body. It helps children develop their team-building skills, hand-eye coordination skills, confidence, muscle strength, and strategic thinking skills."
For the remaining year on the island, Heather plans on helping further develop the volleyball team and also help starting a boys club. "I will also be working with my principal, Elva Springer, on developing a boys club at Langley Park Government School. The goal of the boys club is to give these young gentlemen the tools they need for a healthy and positive life during and outside of school. This club will help the young men of the Langley Park area develop anger management techniques, problem solving skills, and conflict management skills."