Posted on
Fairhall Gov't School implements Grade 7 to assist students with special needs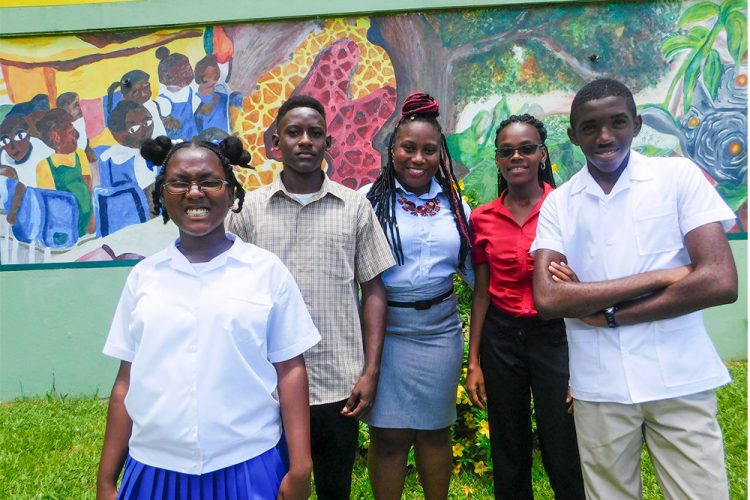 A Grade 7 class has been implemented at a local primary school to provide a smooth transition to secondary education for students with special needs.
The Fairhall Government School, on Monday, opened with an additional grade for children who require special academic support.
The grade, which is equivalent to the first form of secondary school is part of the Ministry of Education's thrust for more emphasis to be placed on special education.
"I think it's needed and I think it's a good start because here at this school we have students who are special, special education students and I think now it gives them the opportunity to make a smooth transition from primary to secondary, right here," Denise Huggins, the headteacher of the Fairhall Government School told SEARCHLIGHT this week.
The headteacher said that the school has earned a reputation for being one that provides inclusive education in a caring and safe environment.
Huggins also said that all children with special needs are welcome at the school, including those with autism, Attention Deficit Hyperactivity Disorder (ADHD), Down Syndrome and visual impairments.
Students attending the Grade 7 class attend classes in the 9am to 3pm period. The girls are required to wear a pleated royal blue skirt and white shirt while the boys wear long khaki pants and a white shirt.
Huggins said that there are currently two students attending class and while she cannot give an exact number, she is expecting more to attend in the coming weeks.
The headteacher said that core subjects will be taught including Mathematics, English, Civics, Integrated Science, Information Technology, Arts and Craft, Physical Education and Health and Family Life Education (HFLE).
When SEARCHLIGHT visited the class earlier this week, students were wrapping up a Mathematics lesson.
Niesha John, one of three teachers assigned to the Grade 7 class, said that she thinks it is a very good move for this country to implement a grade specifically catered to special education.
"I think the system is very good for them and it will help them to get that attention they really need and I don't think that they would be held back. It's not many of them so because of that, they would be able to get individual attention and that kind of thing," she said.
John, who has been teaching for 10 years, is certified and also has experience in teaching students with dyslexia. She teaches Language Arts and HFLE.
"So far, I think it has been a good experience because I am actually getting the opportunity to work with the students and they have different challenges. So their challenges are not the same and because of that, it sets you up to become very flexible because you have to be able to know how to help each of them," she said.
Another teacher, Troy Archibald teaches Art and Physical Education.
This is Archibald's first year in the classroom as a teacher, having graduated from the St Vincent and the Grenadines College, Division of Teacher Education earlier this year.
He told SEARCHLIGHT that while he has not had any experience teaching special students, he has an understanding of how he should be, particularly as it relates to helping his students to develop different skills.
"It's a good idea because you actually make them feel a part of the body of students. You don't want them to feel left out," Archibald said about the introduction of Grade 7. "It's going good so far. I'm very impressed by their ability. I think they are great, they have great minds; they are very smart as well."
Chioniso Baptiste, the third teacher assigned to the Grade 7 class, also thinks that the Ministry of Education has started a great initiative.
Baptiste, who has been teaching for the past three years, started as a companion teacher for an autistic child in the fifth grade.
She is responsible for teaching Mathematics and Civics.
She said that she loves teaching the children in her class and thinks that the Grade 7 will invite a sense of normalcy into their school lives.
Minister of Education, St Clair 'Jimmy' Prince said that the Grade 7 initiative signals the ministry's mandate for no children to be left behind.
"…We should give everybody the opportunity to actualise themselves so if they reach up to form five, they do the CSEC like everybody else and they choose their career path… in other words, we don't want them to end their schooling at Grade Six because they are autistic or differently abled. We want them to continue like normal people but they learn differently so you have to have an environment which caters particularly for their needs," Prince told SEARCHLIGHT.
The education minister said that the Ministry intends to implement the same thing at other schools throughout the country but is assessing how well it works first.
And more grades will be added as necessary.
"So next year, if we find that they need to go up to Grade eight, then we add a grade," he said.
Prince also said that teachers will make the necessary assessments as to whether students can be mainstreamed into a secondary school at a particular point.