Posted on
Artist brings to life her impression of Vincentian women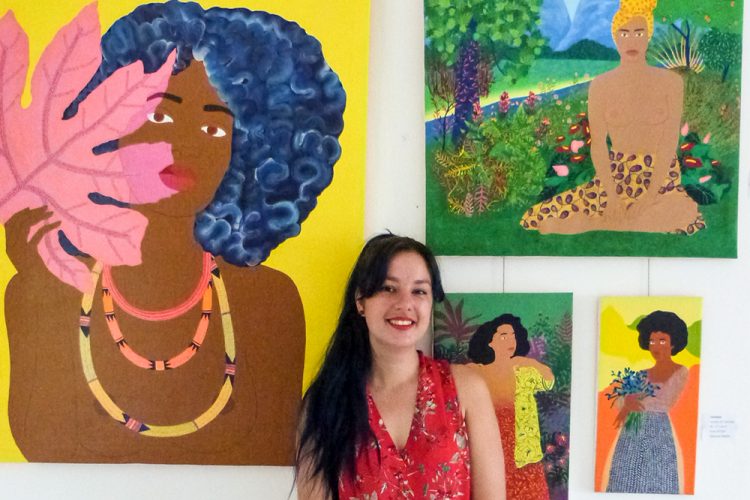 by Katherine Renton
A 29-year-old Cuban artist has painted four acrylic on canvas pieces bringing to life her impression of Vincentian women, who she believes are powerful and sexy.
Daviana Basilio, originally from Havana, Cuba, is an art teacher at the Youlou Arts Centre and she has been living in St Vincent and the Grenadines (SVG) for two years.
Basilio spoke to SEARCHLIGHT last Friday, at the Centre, amidst the forest of paintings being exhibited as part of "Vincy Women Artists Now 2019" which began on August 3 and will run until October 31.
"It's all about us and what we feel about our art," Basilio explained about her and her 13 female colleagues who participated in the exhibition.
"Art done by women does not have a big representation in the art world. If you go to any museum you will see that more than 95% of the art is art done by men. So it's like we are reclaiming our place in art," she commented.
Describing her inspiration for the paintings, Basilio disclosed, "How I see the women of this island, how beautiful they are, how their skin tones are so diverse and how they look in nature. How you can enjoy the woman in all her splendour."
Speaking about the largest painting which shows a partially nude woman with a breadfruit leaf covering some of her face against a bright yellow background, Basilio commented, while looking at the woman, called 'Yagruma', "She looks so powerful there…"
The breadfruit leaf in the painting has been intricately covered with orange dots to create the illusion of a different colour background to the part of the leaf covering Yagruma's face, although it is not.
The paintings with the style of "Caribbean Pop," a twist on the original Pop Art style from America, are more fully appreciated in person and really draw and maintain a person's attention. The 'pop' is effected with the use of distinct colours, and lines separating the elements of the painting which purposefully does not contain a lot of detail.
When Basilio was asked why she chose to represent two of the women in her paintings as partially nude, the artist revealed "The breast for women is how we feel that we are mature. It's what we use to feed our kids, so it's something very important to us and it's very feminine."
However, she laughed while adding that not all the women were painted like this.
She agreed that she sees Vincentian women as sexy and powerful. "Yes! That's how they are, that's how I see them. You can see any woman walking on the street and they look so secure of themselves so proud of what they are," she stated.
"'I'm not ashamed of what I am, I'm this, you take it or not, I will not change,'" she said, while describing her perception of their attitude, noting that she shares the same feelings.
Her painting "Violetas" pictures a woman holding a bunch of Violets. "Her dress is the same colour as the flowers so it can be like a question. Is she the violet, or is it the violets that she has in her hands?," the artist revealed.
"Paseo Nocturno" or "Night walk" to the left of "Violetas" displays unusual technique to create an illusion of transparent dress material.
"When you look at this lady, what do you think she's doing? Is she covering or uncovering?(with her jacket)" Basilio asked. "You don't know. You don't know if the night is cold or warm or if she's looking at someone that she likes and she's flirting. It's the moment. So you can imagine what she will do or where she is coming from," she explained.
"En el Jardi'n" or "In the garden" shows a woman with a patterned skirt amidst a variety of blooming flora. Basilio drew inspiration for this painting from her own garden, and she explains that, being from the city, this is always how she will remember St Vincent. "The nature here has very vivid colours…bright colours. It's very peaceful," she commented.
Speaking about the woman character in the middle of the greenery, she revealed, "She's enjoying her moment in the garden. I'm here inside of nature. I'm the most important flower in this garden. So "everyone look at me."
Beyond simply depicting women in her art, she wants to bring across another message, she explained. "You see all these women, they don't need a man to be there, to be strong, to be independent. It's all of that that I want to express in my paintings. Independent women, empowered," she disclosed.
All four paintings are available for purchase.