Posted on
Sports minister lauds efforts of local sports persons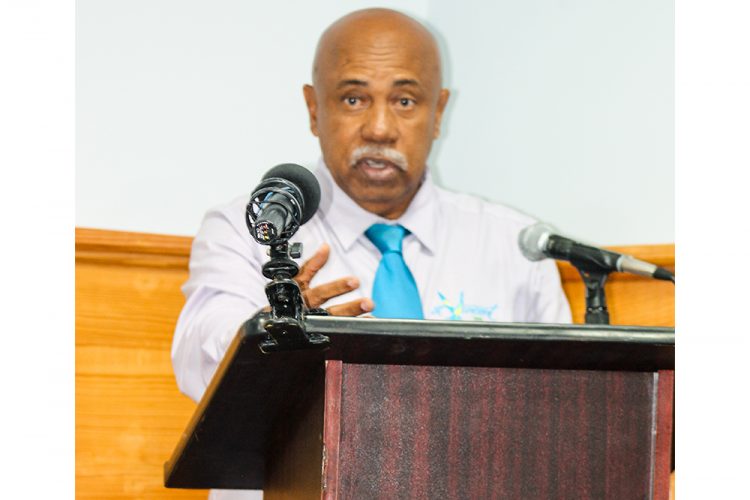 Several local sportsmen and sportswomen have been praised by the Minister of Tourism, Sports and Culture.
Speaking at a press briefing on Monday September 2, Minister Cecil McKie said that where sports is concerned, the achievement of our locals has been exceptional so far in 2019.
"It is like they recognize this is our 40th anniversary and they have been delivering for the nation excellent results," McKie told members of the media at the Carnival Development Corporation's (CDC) conference room.
He mentioned several athletes including triple jumper, Vincentian born, Canadian based Mikiesha Welcome who won a bronze medal for St Vincent and the Grenadines (SVG) in the women's triple jump at the 2019 Pan American Under-20 Athletics Championships in San Jose, Costa Rica in July, 2019; and veteran squash player Mark Cyrus who was runner up in the 50 and over category at the 2019 senior Caribbean squash tournament in Guyana.
McKie also mentioned the SVG karate squad which won four goal medals at the International Karate Caribbean Cup Championship in Guyana last month and this country's outstanding performance in the under-12 and under-14 division of the Confederation of Tennis of Central America and the Caribbean (COTECC) tournament in St Lucia recently.
Mention was also made of cyclist Peter Durrant's exploits in Antigua and Barbuda at the Subway 3-Stage Cycle event. Durrant was 3rd in Stage 1, 2nd in Stage 2 and won Stage 3 in the veterans category of that competition last month.
McKie also said that there are great things ahead in sports in SVG.
"We have the funds now for the running track and I am sure that is something that the young people especially will be looking forward to with great anticipation," said McKie who noted that we are progressing in getting all the necessary things in place so that construction of the track can begin.