Posted on
Urgent Medical Care Facility opens at Pembroke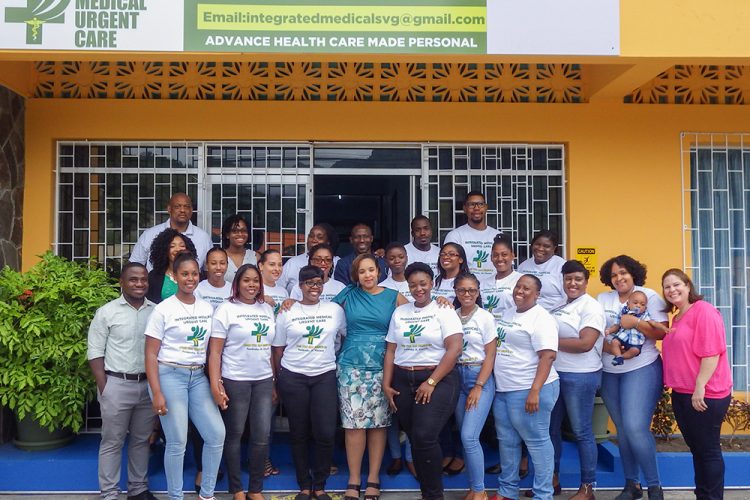 by Donald De Riggs
After just two years of operations, the Integrated Medical Care (IMC) clinic located at Arnos Vale officially opened another much larger facility at Pembroke on Saturday, August 17, 2019.
The new clinic, under the name Integrated Medical Urgent Care (IMUC) will be offering specialized services in Cardiology (heart) , Oncology (cancer), Nephrology (kidney), Radiology (X-ray), Hematology (blood) and Dentistry (teeth) among other urgent medical services. The two clinics are operated by Drs Canesha Browne and Masada James. Both studied medicine in Cuba and are now fulfilling a vision of providing excellent and affordable medical care in St Vincent and the Grenadines (SVG).
The project is the brainchild of Dr Masada James, who said that being able to diagnose a medical problem quickly also allows for early intervention. The earlier the correct treatment begins, the quicker the recovery will be.
Therefore the clinic is outfitted with ultrasound, in house laboratory and X-ray among other diagnostic equipment to help detect problems in a timely manner.
Dr James said that persons from the Leeward side of the island requiring professional medical care can now access affordable medical treatment.
The official opening ceremony heard addresses from Joy Matthews, who gave an overview of the company while Rev. Noel Clarke blessed the facility. Dr Dale Dangleben MD, close friend of both Dr Browne and Dr Masada James, delivered the keynote address, while prime business partner Dr Canesha Browne and daughter Ebony cut the ribbon to declare the facility open to business. The MC for the occasion was Angela "Ideisha" Jackson.
During the formal opening, several staff members were awarded for the dedicated service, while patrons who have benefited from the service at IMC were presented with tokens of appreciation. These persons were also given the opportunity to briefly relate their experiences with IMC.
The national anthem was played on pan by nine-year-old Kafayne Clasp, while the song "Ocean" was performed a cappella by Ashanti Samuel. Following the opening ceremony the invited guests were given a tour of the new facility.
The clinic, which also has a pharmacy, is located along the leeward highway in Pembroke and has adequate parking. The hours of operation are from 7:00 AM to 10:00 PM, similar to the IMC clinic at Arnos Vale. An ambulance service will be available in the coming months.
The IMUC clinic opened its doors for business from Monday, August 19, 2019.