Posted on
Minister carries wheelchair bound youth to top of La Soufriere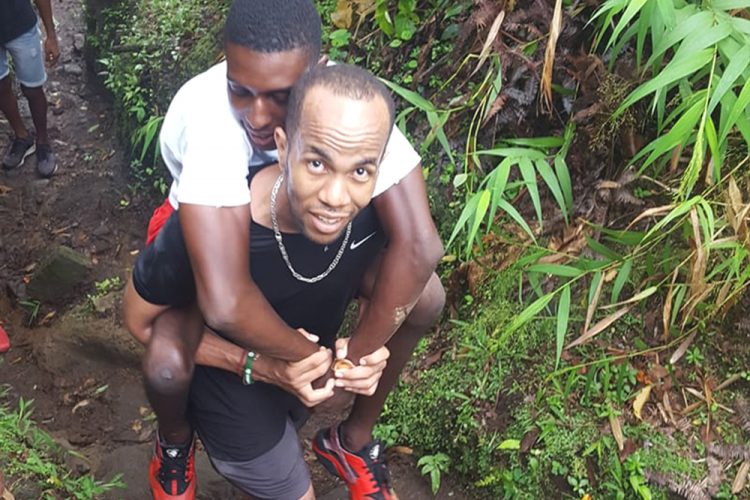 What once seemed like an unachievable dream for wheel-chair bound Yanick Charles became reality when a spur of the moment decision landed him at the top of La Soufrière.
Charles was attending the Luke's Kids Club summer programme as he has done for the last eight years, when the club visited the 4048 ft volcano last weekend.
The 21-year-old met the club founder and this country's health minister Luke Browne waiting at the bottom of the mountain to make sure that everyone had started on the trail.
"My friends were giving me their bags to hold as they made their way on the journey. It was just taken for granted that I would wait at the bottom of the hill until everyone came back," he said.
Charles told SEARCHLIGHT that Browne must have seen the disappointment on his face because it was at that point that the health minister asked him if he wanted to go up; a question to which he immediately replied "Yes".
"It made me feel like it was a dream. I didn't know the day would have come for me to go up there. I always wanted to go but in my condition, I couldn't…I didn't know someone would've carried me on his back so it was unbelievable," he said.
He said the journey took approximately three hours and when Browne got tired, they would rest and have conversation.
Charles has spent the last nine years of his life in a wheelchair after falling from a tree in 2010, which resulted in an injury that left him paralysed from the waist down.
At the time, he was a student at the St Martin's Secondary School, but his formal education was cut short and he was unable to re-enter the education system for several reasons.
He has however been attending private classes and this year succeeded in passing Mathematics at the Caribbean Secondary Education Certificate (CSEC) level. And he intends to do four more subjects: Social Studies, Information Technology, Principles of Business and Office Administration.
"I'm in a wheelchair and I've never let that hold me back and I just want others to know that their life is meaningful. They don't have to give up. They can still do other things even though they are disabled," the Chauncey resident said.
The sports lover has hopes of doing more activities as he also dreams of island hopping through the islands in the Grenadines chain.
And for helping him achieve his dream of making it to the top of La Soufrière, particularly in the way that he did, Charles now describes this country's health minister as a superhero.
Luke Browne told SEARCHLIGHT yesterday that the decision to take Charles up the trail was in the spur of the moment.
"When I saw the situation, I just spontaneously thought that I shouldn't leave him behind so I asked him if he wanted to go up. I knew that it would have been a daunting task for me to carry him up, but I asked him…I prepared my mind for the awesome challenge ahead," the health minister said.
Although he took him up by himself, Browne said he had help from other able bodied individuals along the way who helped to bring Charles back down the trail.
He said he believes this is a story that shows what is possible.
"I just want to encourage other persons to be there for an individual who might be disabled, an individual who might be in need and help them to achieve their potential despite or whatever their circumstances," Browne said. "Whatever your disability might be, there might be an area in which you could basically carve out a niche for yourself and do useful work and as a society, we have to basically support persons who might need additional help, might need additional assistance so that they can be in high spirits throughout the journey of life."